10 Best Infant Pool Floats With Built-In Sun Canopy For Chillin' By The Water
We only recommend products we love and that we think you will, too. We may receive a portion of sales from products purchased from this article, which was written by our Commerce team.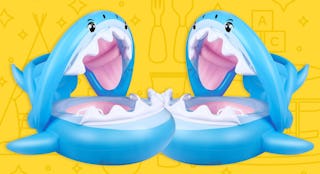 Family pool time is the best, especially when your baby can hang with you in their baby pool float. Sunshine, splashing, sliding, lounging, and *constant* attention from their parents — it must be nice. In reality, you become a glorified lifeguard wielding sunscreen, sun hats, and drinks (not the fun kind). If only there was something to keep your baby or infant safe, sun-protected, and happy, without all the work… But wait, there is! Enter, the baby pool float with a built-in canopy, a summertime and sunny vacation essential. These buoyant beauties are the secret parenting weapon for poolside (or oceanside, or lakeside) get-togethers. And there's plenty to choose from: Some baby swim floats have bells and whistles that will keep Baby occupied and engaged. Then there's the highly-sought-after SwimWays Baby Spring Float with Canopy, and of course, there are flamingo and unicorn-themed options for an Instagram-worthy kiddie pool party.
RELATED: Pool Toys That Will Keep Your Water Babies (And Big Kids) Busy For Hours
Are Baby Pool Floats Safe?
There are few different types of baby pool floats these days, so in short: some are safe. Baby floats with sunshades and canopies, where they can fully rest their entire body without sunburn, is what we'd recommend for your little ones. Wondering which ones to avoid? Baby neck floats (a big no-no due to a higher risk of drowning) and baby float suits (which are usually for older toddlers because they don't keep your baby's head out of the water) are the other pool float options we'd say to shy away from when it comes to infants. A full baby pool float with a shade canopy — like the ones below — is the way to go.
And of course, parents always need to supervise their kids around water no matter what. These floats aren't meant to double as life-saving devices.
We've rounded up baby swim floats with built-in shade that are compact and great for travel (i.e. inflatable) and some are great for kiddies learning how to swim. But the best part? All of the floats below have canopies for shade to protect precious skin from the powers of the sun. Check out our top picks to find the perfect vessel for your little water baby.
Best Baby Pool Float
Let your baby decide how they want to steer this ship. This pool float from LAYCOL allows your baby to sit either facing forward or backward. The float also features a removable UPF50+ sun canopy perfect for those indoor pool days. Shoulder straps also make sure they won't slide out or flip over. It has a ton of fans, with over 8,000 5-star reviews on Amazon. One customer wrote, "This float has been absolutely amazing! Both positions are super comfortable for my daughter. She floats happily around the pool for as long as well let her and she sleeps so well after a day of kicking around in the water. The plastic is really thick and doesn't seem like it would be pierced easily. Came with a patch just in case. I can definitely see this lasting more than one summer."
Best Swim Floats With Canopies For First-Time Water Babies
This adorable eight-legged float has it ALL: An activity center for play (and teething), a spring seat that keeps baby stable, and a removable and adjustable sun shade with UPF 50+ sun protection. It also folds into a carrying case for easy travel and storage, because why would you ever want to go to the beach/lake/pool without it? Reviewers feel this float keeps their little ones safely upright as they learn to get acclimated to the water. "Best. Float. Ever," says one buyer and mother of two. "I bought this float and now I can relax (as much as you can while keeping eyes on both kids) and let my kiddos enjoy the warm weather. The seat is mesh and allows for the baby's legs to relax in the water. The inflatable ring around the mesh seat serves as a back/neck rest for my little guy. His upper body stays mostly dry while he lays back under the adjustable UV protection canopy."
Here's a good option for teeny tiny water babies. The reclined backrest and harness make it safe and sturdy. And the mesh canopy sides let you have eyes on them from every angle. Your little will love lounging like the prince or princess that he or she is in this throne of a floatie. "I'm so glad I purchased this float for my 3 month old," said one Amazon reviewer. "It's so nice to be able to go to the pool and have him be safe from the sun while enjoying the refreshing water with us. The canopy keeps him safe from the sun, while allowing the nice breeze through. The float has two separate compartments that take only seconds to inflate. The incline is comfortable for baby since he can't sit up on his own. There's a sufficient amount of water that baby sits in to keep him cool too!" As a reminder, parents still need to keep an eye on their babies when this device is in use. Safety first.
Best Pool Floats With Canopies For Babies
Make a splash (literally) with the raddest pool float in existence. Outfit your BB in some cool shades and a flouncy one-piece (or swimming trunks for the boys), and you'll be good to go for hours of supervised fun. What better way to introduce your little one to the water than with a big ol' hot pink flamingo-shaped float (canopy shade included, y'all!) Recommended for 6-48 months, this bad boy is constructed from high-quality non-toxic PVC. We can't tell you how many parents recommended this pool float for first-time swimmers. Says one customer, "It's very well made, easy to inflate and super adorable. It has detachable canopy, perfect for sunny [days] to protect our daughter's delicate skin."
For kiddos who like to do more than just lounge in their pool floaty, this whale float with a steering wheel from Peradix is just what they need. Available in either blue or orange, this adorable whale float works for kiddos age three months to three years! It features a removable sun canopy and triple-layer PVC making it more secure and durable than your average pool float. "Loved that this keeps her lifted so she's not completely submerged in the water," one reviewer said, after buying this for their daughter. "She loved the horn and wheel and was happy the whole time. Shade kept her from getting too much sun. Easy to blow up and put together. Will get a lot of use this summer!"
Bring on those Baby Shark do-do-do-do-do vibes with this ferocious float. Made for babies up to 36 months old, this inflatable sharky allows babies to safely join the pool time fun with the rest of the family. The extra-thick PVC makes it durable and super sturdy, and the adjustable/removable cover includes bells in the teeth for a fun sensory experience. Pair it with your own adult shark floats for a cute family photo opp. (This year's holiday cards, perhaps?) "I was totally surprised by the quality of this float!" says one reviewer. "Not only is it adorable but it wasn't too bad to inflate and it's held firm for two months and counting! I was expecting a leak but it's solid! My granddaughter loved it and we loved her in it!"
If you're looking for a super affordable float with ample sun protection, this is your best bet. The inflatable canopy can be pulled back if needed, and there's a rattle hand bar that gives baby something to hang onto and play with. "Sturdy enough to hold the girls upright and very stable," raved one Amazon reviewer. "The leg holes were not too big, and their little bodies fit into the float very well! The top shade kept the sun off of them. Like that the roof attachment velcroes to the float. Makes getting them in and out of the float very easy!"
Let the little one think they're steering the ship with this pool float that includes a wheel and horn. The handles are great for zipping around the pool and it includes a carrying bag, mama and baby rubber duckies, and an air pump. The baby swimming float canopy is both adjustable and removable. "We took this on a trip to Miami Beach and it definitely paid for itself," said one reviewer. "My son is almost 6 months and we were able to enjoy the pool with him... He actually fell asleep in his float while we were swimming in the ocean 2 days in a row. We are so glad he can use this as he grows and it definitely made our trip."
How sweet is this ice cream-themed float? The sprinkle-covered sun shade provides plenty of sun coverage and the secure 3-point harness keeps them snug inside. Better yet, the price is right! Just get ready for your kids to request frozen sweet treats every time they use it. "Very comfortable and practical," stated one Amazon reviewer. "It creates shade when turned on the right way. Great for pictures as well!"
Your child will feel more in control at the wheel of this cute pool floatie. Good for little ones up to 44 pounds, parents love the inflatable seat cushion that helps make this float more comfortable for kids. The canopy feature will help kids avoid direct sunlight, and it's easy to inflate, deflate, and travel with. "This inflatable pool float is the cutest float I have ever had!" said one reviewer. "It is pretty easy to blow up, there are a couple [of] different air chambers. I like the steering wheel as it gives my niece something to hold on to while floating along. A plain old float wouldn't work for my niece, my husband had to make sure she was driving a nice car like everyone else."
Love these warm-weather must-haves? Check out more of our mom-approved top picks for all the best baby gear!
This article was originally published on