14 Colorful, Captivating, Gorgeously Illustrated Books For That Busy 4-Year Old That Just Can't Sit Still
We only recommend products we love and that we think you will, too. We may receive a portion of sales from products purchased from this article, which was written by our Commerce team.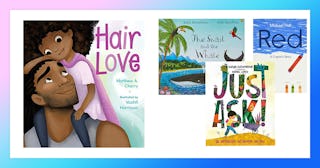 Amazon
Looking for the best books your 4-year-old can get into? It's still hard to believe that tiny bb you just brought home from the hospital basically yesterday is now a talkative, wisecracking, *strongly* opinionated 4-year-old. We're betting their interests look a little bit different now, and that goes for everything including the food they want to eat, the toys they play with, and the books they want to read.
Four years is a transition period—your kiddo is through with board books but not quite old enough to sit through longer picture books or chapter books juuuust yet. It may also be a time when they're transitioning into preschool, where they'll be coming across all different kinds of kids. So it's important to include some books that address and celebrate the diversity among younger children. We've added a few books to this round-up that are must-haves for your kids bookshelf and must-reads before starting school. (And shockingly, none of our picks include the same Disney characters your kiddo usually gravitates toward – *gasp*!)
Books for 4-year-old kids "should offer fun opportunities of engagement—both visually and rhythmically," says author and illustrator Sujean Rim, who wrote the Birdie series. "Look for picture books with captivating images for a child to point to, ask about, or giggle at, or find a story with a rhythmic cadence," she notes. The most important thing? Books for this age group should be super fun to read aloud to make story time enjoyable for kiddos—and for parents.
Below are 15 of our favorite books for the 4-year-old in your life: From how to deal with separation anxiety, to a magical knight's tale about accepting who you are, to a mystery complete with a map and clues for sleuthing—we've found your (and your 4-year-old's) new fave read.
The Best Books for 4-Year-Olds