A Well-Traveled Mom Lists The 5 Most Toddler-Friendly Countries For A Family Vacation
This is such a good list.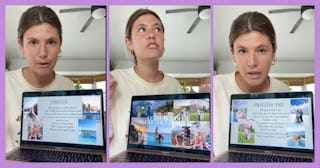 TikTok / @maddiecastellano
Summer is here, and that means family vacations are in full swing. While some opt to road trip a couple hours away from home or take to the beaches, other families decide for the international route. For families who don't even know where to begin when it comes to international travel with kids, one TikTok mom is here to help, and she's a wealth of information.
Maddie Castellano — a TikTok creator and mom to two toddler-aged boys — presented the top countries that she would recommend to anyone who was planning to travel with kids.
Castellano begins the video by prefacing that she and her husband have traveled to 12 different countries with their young sons. Of the 12, she lists out the top 5 most toddler-friendly destinations they've have been to.
She begins, "First starting off strong: Japan. I literally love Japan. I would do anything for Japan. This place is the greatest. It is so safe, so clean. The people are amazing. They're the kindest people, most respectful people in the whole world. They love kids."
"It is very easy to use public transportation, but also we rented a car once. It's super easy to drive. There's so much to do Tokyo, Disney — greatest Disneyland ever — and the food is amazing."
Next up on Castellano's list: Australia.
"This is the only place we've ever traveled to where we thought I could move here," she continued. "Why? Because the people are super nice. There's tons of kids here. There is lots of empty coastline, which means empty beaches. It's a great place to learn how to surf. It's a good mix of like, mountain, ocean, wildlife," she said. "It has amazing restaurants, amazing selection of healthy food, and it is just as easy to travel around as America."
Castellano then moves onto a European destination.
"Greece ... I love Greece. The people here are so kind. They also are obsessed with kids. Food is amazing. It's also very naturally healthy, and my toddlers loved it."
Next up is Switzerland.
"There's so many things for the kids to do. Just so open, so much space to run around. Incredible views. You can literally be at the park or like on a walk and it's like the coolest thing you've ever seen. Also, the gondolas are very fun for them. Cows on the side of the road everywhere. You can experience the snow in the summer, which is super fun. Also there's endless lakes, hikes, it's very safe and clean and very easy to drive around.Also public transportation is amazing," she says.
Last on the list is the country of Thailand.
"You guys, when we went to Thailand I thought this is gonna be hard with the kids," she prefaced. "No, no, no, no."
"It was not hard. Why? Because everything is so cheap here. You can live like a king. We would get $3 massages every day, eat the most incredible Thai food, so cheap. You would go kayaking for like $6 through these caves, like go on boats, everything was amazing."
She then notes that the activity her toddler boys enjoyed the most while visiting Thailand was the elephants.
Castellano said, "We went to an ethical elephant rehabilitation center. We got to make food for them, take them on walks. We got to bathe with them. My kids talk about this every single day. They have not stopped talking about this, and they will never stop talking about it because it changed their life."
She also notes that, in her mind, anywhere in the world can be great with kids.
In another video, Castellano edited together a video featuring every city and country her family has visited in the past year. From Paris to Milan to the Dominican Republic, her toddler boys were along for the ride.
"10 countries in 12 months with two wild toddlers! 🌍 Traveling with little kids definitely isn't easy but its SO worth it!" she captioned the video.
Now, we just need her to do a presentation on all the other countries she and her family have traveled to so we know what to avoid. We're waiting!