Don't Sweat It — Here Are The 7 Best Deodorants For Pregnancy, According To An OB-GYN
One less thing to sweat over.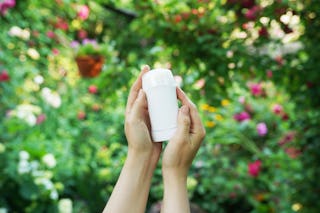 Anastasiia Levchenko / EyeEm/EyeEm/Getty Images
We may receive a portion of sales if you purchase a product through a link in this article.
During my first pregnancy in 2009, I switched from buying whatever deodorant, shampoo, sunscreen, or face wash was on sale to more natural brands that — to be honest — didn't work well. Luckily companies have stepped up to make natural deodorants that actually work. The best deodorants for pregnancy avoid using nasty chemicals you don't want or need and keep you smelling fresh despite raging hormones. We spoke with board-certified OB-GYN Dr. Megan Gray to find out more about pregnancy-safe deodorants.
The Expert
Dr. Megan Gray is an OB-GYN at Orlando Health Physician Associates. She is an expert on postpartum care for moms and the "fourth trimester," as the author of The Forgotten Trimester: Navigating Self-Care After Birth. She is an expert on women's health topics ranging from labor and delivery to birth control and breastfeeding. She is also a mother of two.
Are Pregnant People's Deodorant Needs Different?
It seems like everything is different during pregnancy, from your cravings, to your sense of smell, to how well your hygiene products work. Dr. Gray said the hormonal changes your body is going through can also change your deodorant needs because "a rise in estrogen/progesterone can affect the apocrine glands [that] create scent in the underarms and groin."
Another possible difference during pregnancy is new skin sensitivities and allergies that may crop up. Dr. Gray explains, "The immune system and inflammatory response are altered during pregnancy which can affect how the body responds to substances [and] chemicals." That can mean a sudden rash or irritation to chemicals and fragrances in a deodorant you've used for years.
What Deodorant Ingredients Should You Avoid During Pregnancy?
Many beauty and hygiene products can contain endocrine-disrupting chemicals. According to Dr. Gray these chemicals can "disrupt hormone production and metabolism," and she says substances absorbed through the skin can pass through the placenta to the baby. While more research still needs to be done and protocols put in place, for now Dr. Gray recommends reading labels carefully, choosing "fragrance-free" products, and "avoiding parabens, phthalates, [and] aluminum" to reduce your exposure.
To make life easy, we've included what ingredients each deodorant is free from, along with its Environmental Working Group (EWG) Skin Deep rating. These ratings range from 1, which is a product containing ingredients of lowest concern based on a wide range of criteria, to 10 which is a product that contains ingredients of high concern.
Is It Safe To Use Spray Deodorant While Pregnant?
One product that can increase your exposure to chemicals is spray deodorant. Dr. Gray says aerosolized deodorants "can not only expose you to chemicals through skin absorption but also through inhalation." To avoid this risk, we steered clear of spray deodorants here.
We've rounded up the most highly reviewed, natural, effective, and best deodorants for pregnancy so you can focus on more other things — like choosing nursery decor for your new bundle of joy.
Studies referenced:
Rolfo, A., Nuzzo, A. M., De Amicis, R., Moretti, L., Bertoli, S., & Leone, A. (2020). Fetal–maternal exposure to endocrine disruptors: Correlation with diet intake and pregnancy outcomes. Nutrients, 12(6), 1744. https://doi.org/10.3390/nu12061744
Rivera-Núñez, Z., Ashrap, P., Barrett, E. S., Llanos, A. A. M., Watkins, D. J., Cathey, A. L., Vélez-Vega, C. M., Rosario, Z., Cordero, J. F., Alshawabkeh, A., & Meeker, J. D. (2022). Personal care products: Demographic characteristics and maternal hormones in pregnant women from Puerto Rico. Environmental Research, 206, 112376. https://doi.org/10.1016/j.envres.2021.112376
Expert:
Dr. Megan Gray, OB-GYN at Orlando Health Physician Associates.