18 Shampoos That Are Safe Enough To Use Before, During, & After Pregnancy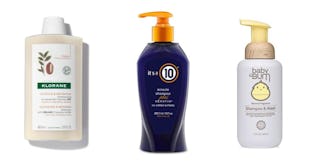 It's a 10/Blue Mercury/Amazon
The best shampoos for pregnancy are the ones you find in the "clean" or "conscious" beauty departments. Everyone from Ulta to Sephora to Bluemercury to Credo are focusing on "clean" beauty for a reason— we are fed up with feeding our bodies possibly bad-for-you ingredients. Since learning that parabens, phthlates, sulfates (and so many other things) are not good for us, it's even more clear that drinking in those things while pregnant is definitely not safe. This means hair products, face cleansers, body wash and deodorants all need a clean sweep when you're pregnant (or even thinking of getting pregnant).
Dr. Sandy Skotnicki, Dermatologist and author of Beyond Soap, The Real Truth About What You Are Doing to Your Skin and How to Fix It for a Beautiful, Healthy Glow knows all about "problem ingredients." She says, "There have been several studies showing that essential oils like lavender and tea tree oil have hormone-disrupting effects. It's best to avoid using undiluted essential oils if you're pregnant or trying to conceive." Also, "if there is any time to try fragrance free skin and haircare it's during pregnancy. Why not? It is not essential to how your products work."
Skotnicki also knows a lot about the cleanliness obsession, and thinks in general "washing less and shampooing less is a good idea and during pregnancy even better." She reminds us, "there is no need to shampoo your hair daily." (Doctor's orders!)
Switching to "clean" shampoos and conditioners has never been easier— our favorite stores have done the research and are using their brand power to demand the best in safe ingredients.
Danielle Keasling, our Ulta Beauty Pro Team Member shares, "A good rule of thumb is to seek out products that are clean, nontoxic, nourishing and contain good-for-you ingredients." She recommends using products made with natural ingredients such as shea butter and aloe vera. Crucial, though is "how important it is to eliminate the toxic ingredients first. You don't want to use products that have some good ingredients but still contain bad ones, as you're defeating the purpose. Focus on what is actually toxic, eliminate it, and then introduce beneficial ingredients into your beauty routine and diet. These healthy practices go beyond hair and will help nourish your body and benefit your baby in the process."
We've curated a group of the best shampoos that are effective, smell great and are safe for pregnancy. Keasling reminds us, "feed your body, hair and soul with super foods, balance, and self-care."
Best Pregnancy-Safe Shampoos:
Clean beauty is more than just shampoo— check out our other mom-approved safe for pregnancy beauty finds.