The 11 Best Diaper Caddies For An Organized Changing Station
Because you'll be there a lot.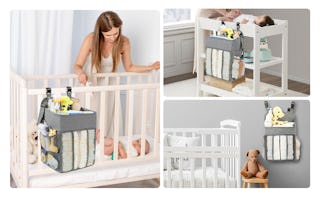 Amazon
We may receive a portion of sales if you purchase a product through a link in this article.
Staying organized is the name of the game when it comes to caring for a baby. Of course, babies have their own agenda and can throw a wrench in even the most well-thought-out parent's plan. Still, seemingly small details can make all the difference, like having a handy place to store diapers — which is why investing in one of the best diaper caddies is both a necessary time- and sanity-saving organization hack.
What Do You Put In A Diaper Caddy?
Judging by the name, you might be thinking that a diaper caddy sounds like a place to store diapers. And you're not wrong. But diaper caddies are designed to hold much more, taking organization to the next level with compartments to store everything from baby wipes and diaper cream to gas relief drops and even nursing items for you.
Depending on the size and style of your caddy, you may also be able to fit a burp cloth, pacifier, nasal aspirator, baby nail trimmer, thermometer, baby lotion, baby comb/brush, and a teether. When your baby gets a little older, you'll also want a toy on hand to keep them distracted and not squirming away mid-change.
What To Consider When Shopping For A Diaper Caddy?
Most diaper caddies will sit on top of your diaper changing table, so it's important to take some measurements to make sure it will fit your setup. For your convenience, we've noted the dimensions for each caddy below. If you're particularly cramped on space, there are a few models that hang — which are perfect for saving real estate and moving from room to room (think: nursery changing table to pack-and-play). That said, most diaper caddies have handles so you can tote them around with ease when needed.
Ready to get your nursery organized? Scroll on to see the best diaper caddies on Amazon.