33 Clever Home Organization Products To Kick Clutter Out For Good
We only include products that have been independently selected by Scary Mommy's editorial team. However, we may receive a portion of sales if you purchase a product through a link in this article.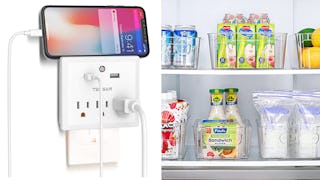 Long before Marie Kondo became a part of pop-culture vernacular, people everywhere were trying to figure out how to deal with a pesky household problem: clutter. And while Kondo's brilliant method works beautifully in many cases, parents know you can't always get rid of something if it doesn't "spark joy." Otherwise, your teenager's stinky clothes would probably be long gone, right? So, when you can't get rid of clutter, you need clever home organization products that at least make the clutter less aesthetically offensive.
Thanks to the era of online-store-to-door shopping, such clever organizational items have never been more accessible. That's technically a good thing, but there's just one hitch — with so many products out there, finding the really great ones can feel like searching for a needle in a haystack.
Well, the heavy lifting has been done for you. The curated goods below are smart, affordable, and highly rated. Happy organizing!
This article was originally published on