These Drugstore Tinted Moisturizers Are A Great 2-In-1 For Busy Mornings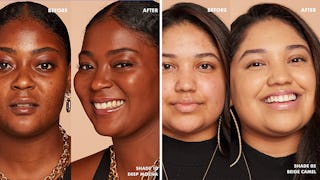 Amazon
We may receive a portion of sales if you purchase a product through a link in this article.
Drugstore-tinted moisturizers are a beauty must-have for mamas who do it all. Yes, moms have superhuman powers— we all know it— from the ability to calm crying babies to making the house look livable despite piles of toddler toys clustered around the house. But waking up with every mark of exhaustion fully concealed? Now that's something even Mom of the Year has yet to master. Luckily, when it comes to perfecting a complexion, the best drugstore tinted moisturizers can multitask, kinda like you, Mom — except there's no real comparison.
Finding the right tinted moisturizer that will save you money and time can help you look flawless on a dime (especially if your wallet simply can't handle purchasing a new tube of Laura Mercier or Nars). It'll also provide sheer coverage and keep your skin moisturized feeling quenched. Whether you're on the hunt for a lightweight BB cream or a tinted moisturizer with SPF, we've curated the best drugstore tinted moisturizers that won't break the bank. Below, our favorite recommendations plus a few more answers to FAQ:
Why do moms need a tinted moisturizer?
Tinted moisturizer is a multi-faceted product that will nourish your skin, smooth over any impurities, give you light coverage, and leave you feeling fresh-er in every sense of the word. And whatever your daily mommy duties are, chances are mornings can be the most hectic time of day. Why not invest in a one-stop-shop, so you don't have to spend extra minutes in front of the bathroom mirror?
How do moms apply drugstore tinted moisturizer?
All you'll need to apply tinted moisturizer evenly are clean fingers. Steal 30 seconds with soap and water before heading to daycare. Dot a few drops of the product onto your face, focusing on under-eye circles, and gently dab for even application. Need to look more awake? Pick a product that adds a dose of glow versus a matte option.
Whoever said you need an Instagram-worthy vanity to get effortlessly glam was never a mom. Here are our favorite drugstore tinted moisturizers.
The Best Drugstore Tinted Moisturizers
Available in seven shades, this foundation from NYX might very well become your new go-to. The cruelty-free brand is a favorite, getting an impressive overall score of 4.5 out of five stars on Amazon. Plenty of moms love the formula since it's not too heavy. In fact, you might forget you're even wearing makeup. It's great for all skin types, and since it's both a concealer and a moisturizer, will end up saving you a little bit of time in the morning. (And, who doesn't want that?)
One Reviewer Wrote: "This is so natural. It's like a bb cream. It gives little coverage and brightens skin. I love it for an everyday look. Gives you a natural and pretty look." — Raspberry
Sometimes mamas let their inner glow go after the baby comes along, but just because the spotlight has shifted, doesn't mean you need to dim down your radiance, Mom. Applying just a few drops of L'Oréal Paris's True Match Lumi Glotion will enhance that all-natural glow you loved and lost, with the added benefit of providing your skin with a burst of hydration, thanks to the shea butter and glycerin. Plus, the lotion's formula is incredibly airy, which is essential for you. You have enough weight on your shoulders. Need more convincing? Just ask the over 15,000 Amazon customers who've given it five-star reviews.
One Reviewer Wrote: "This is one of my favorite beauty products. I put it on before my foundation and it gives my skin a healthy, subtle glow. It has very little scent and just a hint of sheer color. It's like radiance in a bottle." — sillysongbird
When it comes to trusted beauty brands, Jergens is definitely up there. Since they're best known in the world of lotions, you probably didn't realize they also sell a tinted moisturizer as well. Well, they do — and as you can expect, they knocked it out of the park. Available in two colors, this oil-free moisturizer can help even your tone. As a bonus, it has SPF in there as well, helping to protect your skin from sun damage. Over 13,500 people gave it five stars and can't stop raving about it.
One Reviewer Wrote: "I love using this tanning lotion! It gives a great subtle color to your skin without making you look orange. I use it 2-3 x a week for a steady tan color. I like it because it doesn't streak and there's no wait time to dry like other tanning lotions or gels." — Michele Hess
You tell your kids not to judge a book by its cover, so don't judge a tinted moisturizer by its bottle. The Neutrogena Hydro Boost Hydrating Tint might look like an expensive, weighty foundation, but this drugstore-tinted moisturizer is incredibly lightweight (and cheap). It's also been formulated specifically with dry skin types in mind, to ensure parched complexions can find relief. It helps to even out your skin tone and is oil-free so you don't have to worry about it clogging up your pores. Plus, the comfortable formula doesn't enhance dry patches, it creates a smooth finish so you look and feel fresh all day long. Grab this product in 10 across-the-board shades.
One Reviewer Wrote: "I got this because I was looking for a more natural looking but even coverage, and I love the other hydro boost products. This makeup is perfect in my opinion. It feels lightweight, doesn't look like I've painted my face, blends well, melts into the skin with no streaking, evens out skin discoloration, hides blemishes pretty well, and doesn't feel dry." — Sarah
You're probably used to seeing Burt's Bees in the form of a lip balm. You probably have a few floating around in the backseat of your car, swimming in the bottom of the diaper bag or the reusable grocery bag that you've turned into your diaper bag — been there, done that. Now, you can enjoy the same benefits that you used on your lips, on your face. This BB moisturizer comes with noni extract which means your moisturizer is packing nine benefits, including the ability to even your tone and illuminate your skin.
One Reviewer Wrote: "I love this product. Just enough coverage for my face to look clear. It's not cakey and doesn't even look like I'm wearing makeup, but I get some sun protection. Perfect for what I wanted. I do recommend going a shade darker. Once I did that it matched my skin perfectly." — Heather
If you're on the hunt for a drugstore-esque tinted moisturizer with a generous dose of sun protection, Maybelline takes the cake. Those of us with oily skin can appreciate that this tinted moisturizer doesn't contain oil or harsh ingredients yet still protects you from the sun's beaming rays. With a whopping 30 SPF, Maybelline's water-gel Dream Fresh BB Cream comes in five shades, all of which brighten, smooth, hydrate, and yield a dewy finish. Translation: Mamas who aren't making it to the beach very much this summer in the name of whiny toddlers need this.
One Reviewer Wrote: "Really love this product! I've been using it for over a year now and I don't think I'd use any other one for my face. I'm someone who does not use foundation or wear any heavy makeup and I feel like I still get a lot of coverage without feeling caked. I turned my mom and aunt on to this product as well and they don't use anything else." — brunettebb
Who has time for 11 steps of serums and balms on the regular — if ever — with a kid on their arm? No one. CoverGirl CG Smoothers are for Moms who've mastered the art of multitasking and expect the same from their makeup. Available in three shades (fair to light, light to medium, and medium to dark), the product offers 10 skincare benefits in every tube, such as sheer color, 24-hour hydration, SPF 21, correction, and more. Plus, you know if it's CoverGirl, it's going to be easy-breezy to apply, and beautiful on the skin.
One Reviewer Wrote: "I don't wear full face foundation everyday. This is just enough color. During the winter, people's skin is looking a little dull, this helps as a pick me up, until the warm weather hits. It's a wonderful product." — Amazon Customer
If you're looking for sheer coverage, check out this gel cream from bareMinerals. It is ideal for all skin types — even sensitive skin — and has an impressive SPF of 30, helping your skin stay safe in the sun. It's made in the United States and is simple to use. In fact, you may fully ditch your foundation altogether when trying it out. With a 4.6 average and over 6,500 five-star ratings, customers are in love.
One Reviewer Wrote: "I have to wear sunscreen year around. I have Lupus so I always have alot of redness. This covers lightly and makes my skin look refreshed. It's light and easy to apply, as I am not a make up kind of person. I highly recommend it. And it's priced perfect here and being a prime member no shipping charges. It causes no irritation and has little to no scent." — Gina S.
If you're looking for the cream of the crop of drugstore brands, then this is it. This Honest Company tinted moisturizer won a 2020 Women's Health Beauty Award, and it's also been tested by dermatologists. With a vegan-friendly formula, this tint has an SPF of 30 and is fragrance-free. It comes in nine shades, making it easier than ever to find your perfect match.
One Reviewer Wrote: "I'm pregnant and lately my usual go-to makeup has been giving me an allergic reaction, I suppose from whatever fragrance is in it. I had to switch [my] foundation and concealer. I have used Honest products on my baby so I already know it's great. This foundation is thick (harder to spread than Maybelline or cover girl) and gives great coverage! No allergic reaction!" — Tegan
Another top Neutrogena pick (that's super affordable, to boot) this moisturizing formula works to turn back time. In addition to evening out your skin tone, it blurs the look of fine lines with ingredients like retinol, antioxidants, and vitamins. The result is smoother-looking skin overall, plus SPF 20 to help prevent further sun damage. Nearly 10,000 customers ran to Amazon to leave pretty darn enthusiastic five-star ratings.
One Reviewer Wrote: "I don't use a lot [of[ drugstore skincare items but this one is one I use every day. I like it more than the $45 Aveda tinted moisturizer I had previously. It isn't too greasy for my naturally oily skin and provides a perfect glow and sheer coverage for when you gotta run out the door. Love that it has SPF, and it makes my skin feel super soft!" — Amazon Customer
If your face needs a little extra protection in the sun, you might want to reach for a bottle of Australian Gold. Not only does it have an SPF of 50, but it doubles as a tinted BB cream to provide light coverage. It's formulated with plants that are rich in antioxidants and is gentle enough to use every day. Nearly 22,000 Amazon customers credit Australian Gold as being one of their favorite ways to nourish their skin.
One Reviewer Wrote: "Absolute bargain! This is by far the best-tinted sunscreen I have ever used! It is creamy but easily spread (a little goes a long way). You don't have to rush to apply it before it dries in place. It leaves your skin looking more natural than natural!" — Leah
By now, you're likely familiar with the brand e.l.f. When it comes to discount drugstore makeup that still packs a punch, they're always the go-to. Luckily, they also have a stellar-tinted moisturizer worth checking out. Available in three shades for medium tones, it works to give your skin a little bit of extra hydration while also protecting it from harsh sunlight. It's a cream formula that's extremely breathable.
One Reviewer Wrote: "As I get older, my skin gets more sensitive. I find that I can't tolerate the anti-aging foundations, but the foundations I have previously used do not work with my skin as I have gotten older. I wish I could wear something heavier, but this is a great product for light coverage. It's great in the summer when you don't want to wear something heavy, and the moisturizer is very effective in the winter." — cmsg
CeraVe is a trusted name in skin care, so their tinted sunscreen is definitely worth checking out. Don't be alarmed by the fact that it only comes in one shade — since it blends into the skin so effortlessly, it's compatible with all skin types and shades. This moisturizing sunscreen includes hyaluronic acid to help retain moisture in your face, and also has a helpful SPF of 30. What else could a mom ask for?
One Reviewer Wrote: "Easy to spread and blends like foundation. Looks beautiful on my skin. No white cast as I am a dark brown skinned Black woman. Great protection. Seriously, I wear it every day. This is my second purchase. I love it." — Jin60
This article was originally published on