Take Instagram-Worthy Photos With These First Day Of School Signs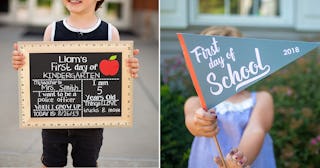 Etsy
Back to school is looking different for just about everyone. Many of our little ones are returning to school for the first time in over a year and some are staying put at home for remote lessons — either way, you still should celebrate the first day back at school! A new grade is a big milestone mama, and trust me, you'll want to remember how tiny they are now because they grow up in the blink of an eye (*holds back tears*).
RELATED: The Best Backpacks For Kids To Kick Off Their School Year In Style
One of the cutest traditions you might already take part in is documenting the first day at school with a sign that shows everyone your kid's age and grade they're about to conquer. While you can totally make your own signs from scratch, may we suggest some pre-made options to make life a little bit easier? From banners and pennants to reusable chalkboard signs, read on for some of the cutest first day of school sign options!
Best First Day of School Signs
First Day of School Chalkboards
If you're loving these ideas, check out more of our Back to School stories!
This article was originally published on