The 7 Best Kids' Yoga Mats To Get Them Excited About Calming Down — Plus Some Accessories To Kick-Start Their Practice
Child's pose or happy baby?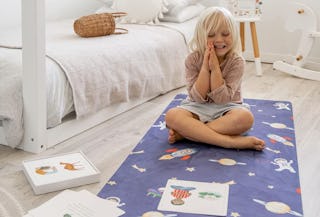 Amazon
We may receive a portion of sales if you purchase a product through a link in this article.
Are you a mom who loves slipping away for an hour (or four) of self-care — preferably in the form of a hot yoga session? While your littles might not be ready for that kind of heat, it's never too early to get them started practicing their own self-care routines, and investing in one of the best kids' yoga mats is sure to get them excited about calming down. That may sound like an oxymoron but it's true. Exercise releases endorphins (aka "feel-good" hormones) and helps lessen stress and anxiety. And who doesn't want a happy, calm kid?
Why Is Yoga Beneficial For Kids?
Yoga for school-aged kids has been found to help with focus, balance, strength, and endurance. And the benefits don't stop there: One study that looked at the effects of yoga in a group of 5-year-olds found that practicing for 30 minutes two times a week benefitted those who experience hyperactivity and supported cognitive function, serving as an "effective sensory-motor training" through stretching, breathing, and meditation practices.
What To Consider When Shopping For Kids' Yoga Mats
Kids' yoga mats come in a range of sizes — from toddler to big kid. Note: A typical adult-size yoga mat measures 68 inches long by 24 inches wide. You'll notice that most kids' options are quite a bit smaller and we've noted the product dimensions for each pick below so you can find the right size for your yogi in training. But the best kids' yoga mats aren't just a smaller version of yours. Some come with kid-friendly prints that show specific poses to get them started and there are even options that include access to a free app or downloadable class with yoga moves intended just for kids. Most mats will require washing by hand but there are premium options that can be conveniently tossed in the washing machine for the easiest care.
Ready to get your kids saying namaste? Scroll down to find the best kids' yoga mats around — and they're all conveniently on Amazon.