The 20 Best Maternity Dresses For A Baby Shower — & There's One For Every Season & Style
Dress that bump to the nines.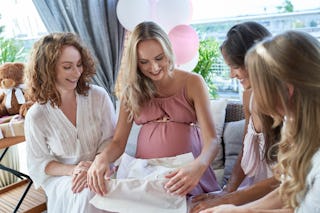 Westend61/Westend61/Getty Images
We may receive a portion of sales if you purchase a product through a link in this article.
A baby shower is not only a way to get spoiled before baby arrives, but also a chance to receive some much-needed items for baby's nursery or even your hospital bag. That said, shopping for the right thing to wear to your shower can be a challenge, especially if it's close to your due date and you're just so uncomfortable. Fortunately this curated list of the best maternity dresses for a baby shower is here to help. Whether you plan on having a low-key gathering or a formal affair, there's a maternity dress here for every style and shower theme. All promise to look chic while feeling utterly comfortable.
Thanks to fashion-forward maternity clothing brands, finding a dress that doesn't look like a frumpy potato sack or a moo moo straight out of the 70s is actually possible. The maternity dresses you'll find here include everything from dramatic mermaid styles to the perfect little black dress — with extra stretch, of course. And whether you want to show off your bump with a tight-fitted bodycon maternity dress or give the bump some extra room with an empire waist gown, you're sure to find the look you're going for here.
Once you have your wardrobe settled, you can spend your time on other important shower matters: like what baby shower games you'll (grudgingly) play.