These Nursery Blackout Curtains Will Help Baby (And Therefore, Everyone) Sleep
We only recommend products we love and that we think you will, too. We may receive a portion of sales from products purchased from this article, which was written by our Commerce team.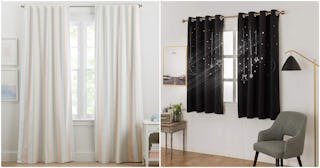 Pottery Barn Kids / Amazon
Nursery blackout curtains can make a huge difference in the quality of sleep your baby or toddler is getting, especially if they have a hard time falling asleep or staying asleep when it's bright outside. If this is the case, no amount of soothing from a stuffed animal (if they're old enough) or a sound machine will help them drift off to dreamland while tucked in their beds; the only solution is some light-blocking window treatments. Blackout curtains are made of extra-thick material — usually a combination of polyester and cotton — that can cut out the light in a room up to 90 percent. (You know that Age of Aquarius song that's like, "Let the sunshine, let the sunshine iiiiinnnnn?" Blackout curtains do the exact opposite of that.)
RELATED: 165+ Disney Character Names That'll Bring Back Those Magical Memories
Early bedtime and daytime naps can be a challenge when it's bright in your child's bedroom, especially when daylight saving time rears its ugly head. Not to mention, your little one's new routine might be waking up at the butt crack of dawn while the rest of the family just wants to keep sleeping. The best way to overcome the sun's light is to trick your kiddo into thinking it's pitch black outside with blackout curtains to help everyone get more zzz's.
RELATED: There's No Avoiding It: Your Baby Wants A Bouncer. Give 'Em One Of Our 12 Best Activity Centers
Not all blackout curtains are created equal, however. Some are utter perfection and let you invite the sun in on your terms. Others are too thin and have inadvertent teeny tiny holes that let pinpoints of sun sneak through. But we're here to help you find the ones that work best for your nursery, because we feel your exhaustion.
We've rounded up some high-rated blackout curtains that do their job well so everyone in the family can get optimal sleep. Keep in mind, you'll need to purchase a curtain rod separately if you don't already have one. (And for older tots who have a hard time staying in bed, might we recommend a sleep training clock?) Sweet dreams!
Best Nursery Blackout Curtains
This article was originally published on