Put Down Their iPhones—Here are the 15 Books Your Teen Will Love to Read
by Maria Tallarico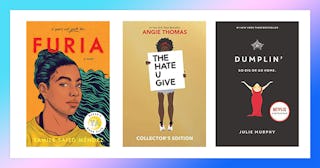 Teens who read for pleasure (and not just for homework) are cultivating an incredibly rewarding lifelong hobby. Young adult novels play a big part in growing a love of reading. From fiction and romance to sci-fi and mystery — escaping into a novel is a way to venture into unknown spaces. A good YA book builds and stretches the imagination and challenges perspective. It makes the world, and all of its possibilities, endless and still within reach.
Today, with so much time being spent online, developing an early love of reading is even more critical: The American Psychological Association reports that less than 20% of teens read a newspaper, magazine, or book daily, and one in three teens has not read a book recreationally in a year or more. Sometimes, capturing their attention means finding a world of characters that entices them to read the next sentence, then the next page, then the next chapter. With many extracurricular activities canceled this fall/winter due to COVID-19 restrictions, what better time to get the kids hooked on reading?
Here's a list of highly lauded YA page turners, from a classic from the '60s to a teen rom-com set against a beauty pageant competition in Texas. Prepare for the madness by scouting out a mom-approved kids bookshelf to house your growing home library, and check out our list of the best young adult books for your teen reader.
Best Young Adult Books
Best YA Fantasy Books
Good Books For Teenage Girls
Classic Books Every Teenager Should Read
This is the basis of a solid YA library. For even more options, be sure to check out 20 LGTBQ Books For Kids from Preschooler to Teen and for more options (from memoirs to nonfiction) check out 30 Books Every Teenager Needs to Read.