The Best Octonauts Toys For Your Octo-Cadet's Adventures -- Above Water & Below
We only recommend products we love and that we think you will, too. We may receive a portion of sales from products purchased from this article, which was written by our Commerce team.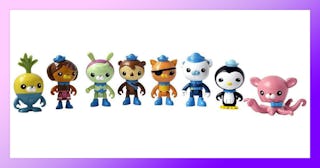 Amazon
Octonauts toys may be your kid's latest toy obsession, and if that's the case, here's the low-down: The Octonauts (and not "The Aquanauts," contrary to popular belief) is a British Netflix kids series, and it's surprisingly addicting for kids and adults, alike. It's a sweet premise — as with the best of children's shows and entertainment — and stars a cast of fun undersea rescuer/explorers. The Octonauts characters (wondering who is who? More on that later …) are always willing to leave their Octopod home base to help sea creatures in distress, boarding their Gups (aka, fancy fictional vehicles) to rush out in the time of need. Along the way, they uncover new underwater worlds and critters, and FYI — the show is impressively educational, even for grown-ups.
If your child is like most kids, simply watching the hit series is not enough—they're a bonafide Octo-cadet who needs more Octo-fun in their life! In other words, it's time to buy them some Octonaut toys to play with all day long, leaving them for you to subsequently trip over in the living room when you finally have a moment of quiet to yourself. But as it turns out, it's not always as simple as heading to Amazon and clicking "Add to Cart," because some Octonauts toys can be tricky to track down.
What are the Octonauts' characters and what are their names?
In case you're sure who's who, here's a handy list of the Octonauts' names so you can make sure you get your kiddo's favorite. And yes, there are 8 (hence the "Octo" in "Octonauts"):
Kwazii is a daring orange pirate cat who always wears an eye patch.
Captain Barnacles is a white bear who tends to take charge.
Shellington is an otter who's a marine biologist.
Peso is a penguin and the team's medic.
Dashi is a dog, tech wiz, and photographer.
Tweak is a bunny engineer who makes sure the gups are always in tip-top shape.
Professor Inkling is an intelligent octopus and oceanographer.
The Vegimals are vegetable/animal hybrids that help out around the Octopod and speak their own silly language. There are actually several vegimals (meaning the Octonauts count may technically be more than 8), but we digress.
With all that said, We'd say it's about time to replace all of those Baby Shark toys (and retire that theme song–finally) with our new favorite aquatic crew: The Octonauts. Are you unsure where to begin your search for the best Octonaut toys? Don't worry, Mama—we've got your back, as always. Here are some of the best Octonauts toys on the market that kids will be loving in 2021.
What are the Octonauts Gups?
To clarify, Gups are the vehicles used by the Octonauts, often underwater but sometimes above. They have different Gups for different purposes and terrains and are all identified by a different alphabet letter, from Gup-A to Gup-Z.
What is the Octonauts Octopod?
The Octonauts live in the Octopod. It resembles a multi-limbed creature and has 4 arms that act as separate wings of the main base. When the Octonauts head out on an adventure, there's a hatch that opens to release the Gups into the open sea.
Why are Octonauts toys so expensive?
We agree, Mama — if you've done any searching for Octonaut toys, you've seen some ridiculously high prices. Others are nearly impossible to find (made even harder if you're mistakenly searching for "Aquanauts toys"). With the popularity of the show, these toys have become a hot commodity (think: bidding wars for Beanie Babies), plus some are more available in the UK, where the show originated. Their status is putting them on the brink of being collector's items, although all your kid really wants to do is play with their favorite characters and Gups.
Luckily, though, not all are hard to come by, and you can find some adorable, affordable options (we've picked our favorite ones below). So go ahead, make your kids' day as they play along to their favorite Octonauts episodes and sing along to the Creature Report.
Octonauts Character Toys
Octonauts Gup Toys
Octonauts Plush Toys