Keep The Binky Off The Floor With One Of The Best Pacifier Clips
Don't leave home without it.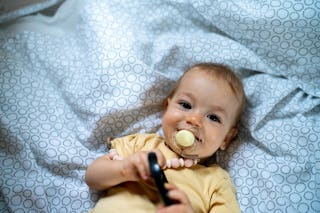 StockPlanets/E+/Getty Images
We may receive a portion of sales if you purchase a product through a link in this article.
It's a trick we all quickly learn — bottles, binkies, and boobs are all instant baby soothers. So when pacifiers are chucked across the room or just go missing, parents can expect that all hell is about to break loose. One way to avoid the drama? Attach that binky to one of the best pacifier clips designed to keep pacifiers safely attached to baby's clothing and off of the ground. Here's what you need to know to find the right clip for your LO.
Are Pacifier Clips Safe?
Of course, anything that's going to be within a baby's reach needs to be designed with safety in mind. The best pacifier clips adhere to federal safety regulations meant to avoid any harm that can be caused by choking or strangulation, and all of our picks meet these guidelines.
Here's a breakdown of what to keep in mind when purchasing and using a pacifier clip:
The pacifier clip's strap (the material between the hanging loop and the clip) should be no more than 7 to 8 inches long
The pacifier should not be sold with a decorative ribbon or string such as loose twine, cords, or yarn
Look for secure clips and loops and inspect them frequently for deterioration that can pose a risk
What Else To Consider When Shopping For The Best Pacifier Clips
Material
Most pacifier clips you'll find are made of either fabric or silicone: Fabric ones, like those made of cotton or polyester, are lightweight and can have fun patterns on them but can take some time to fully dry after washing (some are machine washable); silicone clips wash easily (most are dishwasher-safe) and some double as teethers, but you'll likely pay more for them.
In terms of the clip that attaches to your kiddo's clothes or outerwear, metal clips are less susceptible to breaking than plastic clips, but they can also develop rust stains from washing.
Fit
Basically all of the options below attach to pacifiers with a loop, which offers a universal fit so you can pair it with the pacifier or soother your baby prefers (because they will have a preference). The loop end goes through a hole in the pacifier or around the handle.
With all this in mind, it's time to find the right paci clip for your little one. Ahead, you'll find options in everything from cute patterns to solid neutral colors. Need a pacifier clip that's also a rattle or a baby teether? We've got you covered there, too.
Now, let's get those pacifiers secured — in style.
In a hurry? Here are the top picks for the best pacifier clips.
1. These Cult-Fave Fabric Pacifier Clips: babygoal Pacifier Clips
2. A Textured Teething Pacifier Clip: Itzy Ritzy Silicone Pacifier Clip
3. These Adorable Sensory Pacifier Clips: COTTONBEBE Pacifier Clips