25 Parents Share The Most Surprising — But Best — Advice They've Ever Gotten
People tell you plenty when you're expecting or have a new baby. Here, parents share the advice that turned out to be right on the money.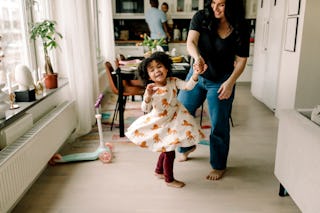 Maskot/Getty Images
The days are long, but the years are short. You reap what you sow. Bigger kids, bigger problems. All those clichés are true, but unfortunately, they're hard to appreciate until you're some 15 years into parenting. Being told, "It goes so fast!" when you have a 5-month-old is mildly infuriating (and feels dismissive when you haven't had a night's sleep in half a year).
But sometimes, someone tells you something when you're pregnant or have a little kid, and it catches you by surprise — because it turns out to be great parenting advice that you can put to use immediately and still appreciate years later.
In that spirit, I asked parents across the country (TBH: mostly my friends) to share some of the wisdom they were glad they heard. Some of the quotes are small and practical tips, and some of them are wide-view advice, but all are worth remembering.