14 Best Plus-Sized Yoga Pants You'll Never Want to Take Off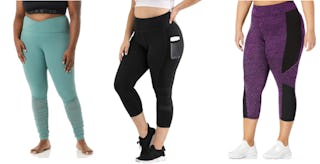 Scary Mommy/Amazon
Regardless if you do yoga regularly or simply like lying in corpse pose at home on the couch, there's one thing you absolutely need: a good, comfy pair of yoga pants (or really, several of them). When shopping for plus-size yoga pants, you should look for a pair that's not only supportive but is also breathable and unbelievably comfy. And chances are, you're going to be wearing those yoga pants more often than not, doing home workouts, working from home, grocery shopping, and more, so they need to stay in place no matter what you're doing.
Whether you're pairing your stretchy pants with a workout bra, cute muscle tee, or a comfy hoodie, there's a pair of cute yoga pants for you below. From sporty capris to edgy mesh-accented pairs to on-trend flares, you can find yoga pants in so many styles to fit your mood. Of course, any leggings with side pockets — especially those big enough to fit your phone — will become your new go-to's. May as well order a few pairs right off the back because you know you're going to be reaching for them every day of the week, thanks to their practicality and effortless style.
With all the many options out there, we've helped narrow the choices down for you. Ahead are 14 pairs of plus-size yoga pants that will hug your curves in all the right ways, and keep you cool however you decide to move.
Best Plus-Size Yoga Pants
Best Plus-Size Yoga Capris
For more inspiration on how to stay healthy and look stylish while doing it, check out our Wellness picks.