The 7 Best Stroller Organizers For UPPAbaby Vista
Paci, coffee, phone — pack it all in.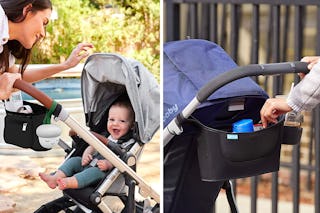 We may receive a portion of sales if you purchase a product through a link in this article.
Prepping to leave the house with little kids (even if just for a trip to the park) can feel like you're about to embark on a round-the-world excursion. So. Much. Stuff. That's why having the necessities in an easy-to-reach location, instead of jammed at the bottom of a huge diaper bag, is key to staying organized and avoiding tantrums. The best stroller organizers for UPPAbaby Vistas keep essentials easily within reach. Here are some things to consider while you shop.
First, Is A Stroller Organizer Necessary?
The short answer is: Absolutely. Stroller organizers are designed to attach to the handle for quick access. Yes, your Vista has a roomy storage basket that can hold a diaper bag and more (grocery run, anyone?), but the stroller organizer offers access to everything from baby bottles to small toys, wipes, and of course, your phone, without having to bend down. And your iced coffee slides right into one, too. You'll soon realize that a stroller organizer is the accessory you can't live without.
What To Consider When Shopping For A Stroller Organizer
Storage: Most organizers stretch across the handle with enough room to offer a cup holder or two, and you'll find that some are even insulated to help keep your drink at the right temp. Bonus points for organizers with zippered compartments, which are handy for storing valuables; some also zip off if you want to grab your wallet when you step away from your stroller.
Washability: Spilled coffee is a possibility (think bumpy sidewalk), and when it does you'll be glad to have a machine-washable organizer or one that wipes clean easily — neoprene options are waterproof and wipe clean especially well.
Attachment: Organizers fasten on each end of the stroller handle with hook-and-loop closure or loops that snap on, so they're easy to put on and take off. Both are fairly effortless so it's really a matter of personal preference.
Most importantly, we can assure you our picks below fit the UPPAbaby Vista stroller's curved handle well. With all this in mind, let's get to those organizers. Trust me, you won't regret this little luxury.
In a hurry? Here are the top picks for the best stroller organizers for UPPAbaby Vista.
1. The Official UPPAbaby Vista Stroller Organizer: UPPAbaby Carry-All Parent Organizer
2. The Cult-Fave Organizer That Turns Into A Purse: Momcozy Universal Stroller Organizer
3. An Organizer With A Wipe Dispenser: Swanoo Universal Stroller Organizer