The 5 Best Tummy Time Water Mats — For Less Tears & More Fun
We only recommend products we love and that we think you will, too. We may receive a portion of sales from products purchased from this article, which was written by our Commerce team.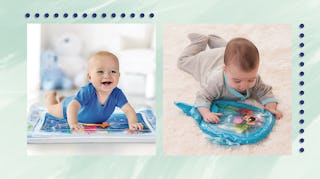 Tummy time is an essential activity for babies that can help them strengthen their arm, neck, head, and chest muscles, and it should be started soon after they are born. But here's the thing — not all babies like it. In fact, many babies HATE it, but because it's so important, parents can rely on the best tummy time water mats to make tummy time a more pleasant experience for all involved.
In recent years, tummy time water mats have become increasingly popular for older babies because they are soft, squishy, and a more engaging experience. To find out what to look for when shopping for the best tummy time water mats, Scary Mommy reached out to board-certified pediatrician Dr. Whitney Casares.
The Expert
Dr. Whitney Casares is a board-certified pediatrician and the best-selling author of The New Baby Blueprint. She's also a spokesperson for the American Academy of Pediatrics, a podcast host, mother of two, and medical review board advisor for Prevention magazine.
What to keep in mind when shopping for the best tummy time water mats
A tummy time mat provides your baby with a distraction and sensory play that can motivate them to stay on their tummies longer. "Water mats can be a fun way for older babies to practice stabilizing their upper neck and arm muscles with engaging visual input," Dr. Casares tells Scary Mommy.
The best tummy time mats are made of leakproof PVC and feature engaging designs with vibrant or high-contrast images that appeal to babies. To use, simply fill the outer ring with air and the inner section with water to set up baby to play. Dr. Casares has some important recommendations when choosing a water mat for your baby:
Make sure the water mat you choose doesn't have detachable parts, and that you are constantly supervising your child while they are using it. Follow the specific product instructions to ensure your child's safety while using the mat.
Flat play mats are best for newborns, but squishier water mats can be safe as babies gain more head and neck control and keep themselves lifted while playing. Note: A water mat is not recommended for babies under 3 months old; If your baby can't keep their head elevated easily while on the mat, suffocation is a real risk and you should hold off on a water mat until baby is steadier.
If your baby is still fussy or continues to cry during tummy time, even with a water mat, Dr. Casares says to "take a break and try again later." She also suggests, "It might help to get down on your own tummy at eye-level with your little one or provide a baby-safe mirror while he or she plays."
With all this in mind, here are the best tummy time water mats for babies.
Experts:
Whitney Casares, board-certified pediatrician at Pediatric Associates of the Northwest