8 Sensory-Stimulating Toys To Help With 2020's Never-Ending Stress
by Yelena Moroz Alpert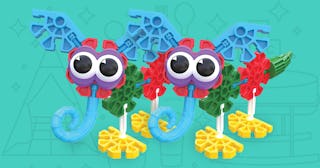 Did you know that sensory toys can help with your little one's anxiety? Even if you and your family think you've got this new normal figured out, minor stressors (damn you, bottomless inbox) can unravel the day faster than your kid can say, "Can I have another snack?" Kids are like emotional lint rollers, they pick up on your attitude before you even realize it. Now for the good news: when your little one (and you) are dealing with that stress, sensory toys for kids and constructive sets can be a huge help.
RELATED: What Is Constructive Play, And How Do You Encourage It?
When you play with sensory toys and talk about how they look, feel, or sound you're demonstrating that you care about the same things—and that feels reassuring. "During such an unpredictable and stressful time, child-directed play can provide children with the attention they need, and they may be less likely to seek it during other times, such as when you're trying to work," says Daniel Bagner, Ph.D., a board-certified licensed clinical child psychologist and psychology professor at Florida International University's Center for Children and Families. Sounds pretty good, right?
RELATED: This Brand New 'Baby Shark' Sing And Swim Bath Toy Is In High Demand
Baby sensory toys can help your little one develop color, number, and even social skills that they would have otherwise learned later. Sensory toys for autism also make a huge difference in your kiddo's life. Even a brief one-on-one playdate can have lasting effects—especially when it comes to your kid's bedtime routine. Think of it this way, engaging with your kids through play is like filling up their emotional gas tank with happy fuel. So when they are faced with a mid-day dilemma, they are better equipped to tackle when not running on empty. Constructive and sensory toys are great for this because the engagement level is so high. "While children tend to play independently with these types of toys, it's interactive play that is critical for optimal social-emotional development, including the ability to self-soothe," adds Bagner. "When parents praise their children for staying calm during play, it increases the likelihood that the children will be calm in other situations."
You don't have to be Willy Wonka to succeed. Sensory toys, like a fluffy stuffed animal or a squishy ball, helps in creating safe and comfortable play. Give them the tools and do what you can to help make that playdate happen.
Best Sensory Toys for Bedtime
Best Sensory Toys for Book Lovers
Best Sensory Toys for Infants
Best Sensory Toys for Toddlers
RELATED: We're Positive These Are The Best Magnetic Toys
Best Sensory Toys for Preschoolers
Best Sensory Toys for Outdoor-Loving Kids
Best Sensory Toys for Staying Busy
Stay calm and play on with other mom-approved toys your kids will enjoy all year long.
This article was originally published on