These Cheap Back To School Supplies Let You Stock Up Without Breaking The Bank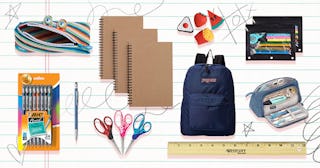 Hey mamas, here's some news you might be happy to hear — cheap school supplies exist, so you don't have to break the bank when checking off your list! Back to school season means new back-to-school supplies, new school clothes, new sneakers (that actually fit), a new backpack, and a whole lot of new emotions to navigate. You have enough going on and are probably already spending more money than you'd like on all the things, so we're here to help you out. (Parenthood, right?)
Stocking up on planners, #2 pencils, glue sticks, and 3-ring binders shouldn't put a wrench in your budget this back-to-school season. (And don't forget a first day of school sign for your kiddo to hold for a picture-perfect moment.) So, we compiled this cheap school supply checklist, all of which are available on Amazon, to make your shopping easier and less expensive.
Where are the best back-to-school deals?
We're finding a ton on Amazon. You can search things like "school supplies under $2" or "school supplies under $10" to pull up a variety of back-to-school essentials that won't drain your bank account.
And don't let the word "cheap" scare you off. (Like it ever would!) In this case, it really just means inexpensive. There are plenty of products that are highly-rated — we even found ones that are made from decent materials. Plus, if you save serious cash during back-to-school shopping, you can spend more money pampering yourself. You deserve it after the fresh hell you survived prepping your kids for a year of success. Keep reading for cheap school supplies you can justify spending on this year.
Best Cheap School Supplies
Best Basic School Supplies
Best School Supplies Organizers
Best Cool School Supplies