A Dad Drove His Family 17 Hours To Florida After Their Flight To Disney World Was Canceled
He dropped everything, put "On The Road" on the car stereo, and drove 1,000 miles.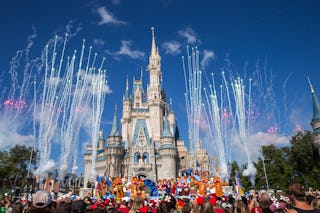 Matt Petit/Disney General Entertainment Content/Getty Images
A lot of things make a great dad. They're there when their kids need them, hardworking, and sensitive to everyone's needs. But some amazing dads go above and beyond the call of duty from time to time, and they should be recognized as the legends they are. This week, it's time to salute one of these dads.
Here's what happened:
Jill Tobin-Montanez was off to Disney World with her two kids when disaster struck shortly after her husband Nathan dropped them off at the airport: Their flight was canceled, and the next available plane didn't take off for two more days. Their trip was looking like a total no-go, and the crushed mom had to break the news to her crushed children.
"I explained to my kids that sometimes life gives you lemons — and we'd try again to get to Disney another time," she told Good News Network (GNN) after she posted her story on Facebook.
But it seemed like someone was ready to lemonade. Nathan, who couldn't go on the trip due to work demands in the supply chain industry, turned around the car to go pick his family up at the airport not long after dropping them off. And he had a plan.
"When we got in the car, all defeated, he asked if we were ready to go," Jill continued. "We said 'yup,' thinking we were going home. Then he told us to get ready for a long drive. He then put the song 'On the Road Again' on the radio and told us he was driving us to Disney!"
The last-minute road trip took 17 hours and spanned 1,000 miles down the coastline, but dad wasn't going to stand by while his family missed their trip, which had taken months of planning.
The family didn't miss a single day of their plans in the Magic Kingdom, thanks to dad.
After he dropped them off, a little after midnight, he rested for a few hours and then turned the car around and headed back home — so that he'd only miss a day of work.
It's a dad move that won't be forgotten.
"This dad is our rock!" Jill told GNN. "Not many people in this world would do that. And the kids absolutely appreciate what he did for them. They haven't stopped talking about him."
This father deserves a good night's sleep, a medal, and a well-earned trip to Disney with his family. Except maybe they'll fly next time.