24 Genius Dad Hacks That Will Make Our Lives Better
by Panda Elder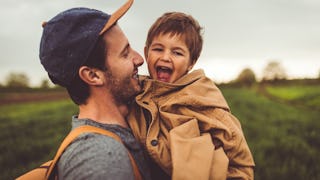 AleksandarNakic / iStock
We're all aware of the fabulous creations of the Pinterest moms, and we know damn well grandmas have just about every little domestic trick and tip up their sleeves, but as the years go by, I find myself more and more impressed with the ingenuity of my husband. The dads I see out there aren't only loving and involved, but also efficient and clever.
Below are 24 dad hacks, many from my own home, and some from beyond:
1. Homemade haircut cape
Want to give your kid a fresh 'do, but without all that itchy hair sticking to his skin? Cut a hole in the bottom of a trash bag big enough for his head to go through, and — voila! — you're pretty much at the barber shop.
2. Kids' car wash
Need to do a couple things in the garage, but without all the "help" from the kids? Give them buckets of soapy water and washcloths and ask them to clean the car. It's a solid 17 minutes of fun.
3. Bicep-curl a messy kid to the sink
After a meal or a finger-painting session, Mike of New Jersey picks his kids up from behind with his left arm between their legs and up to their chests. He carries them to the sink in this bicep curl position where he washes their hands and face without getting his own garb stained in the process.
4. Teach your kids how to brush their teeth with a song
Jesse of Florida doesn't only use his musical talent to pay the bills, but to ensure his children don't miss any spots while they're scrubbing their pearly whites.
5. Put sunblock on kids while they're strapped into something
Some things are easier to accomplish when they're restrained.
6. Clip toenails when kid is asleep
Matthew of Hawaii waits for nap time, then goes for a ride so his daughter will fall asleep. Once she's out, he takes advantage of the easy access to her fingers and toes, and clips them peacefully. He admits he used to wear a headlamp and sneak into her room while she was napping to do the job.
Do you have a little ninja at home who is desperate to kick something? Get a big bag (say, a sleeping bag case or a duffel bag) and stuff it with a comforter. Hang it somewhere accessible.
8. Give them some wood to hammer
If you're working on a project and need a little breathing space, pass your kids some scrap wood and let them have at it with their play tools. Depending on the children's ages, you could actually let them practice screwing and/or unscrewing.
9. Inside-out shirt trick
Nate of Oregon discovered that if he keeps his shirt inside out at home, he can eat up all the baby snuggles, and keep the outside of his shirt fresh for when he leaves the house. He doesn't create unnecessary laundry — he just flips it right side out and is good to go.
10. Multitask with a baby carrier
Josh of Florida says the baby backpack is life, and he carries his little girl in it even while painting and working on household projects.
11. Tell your kids you need help painting
Get out the scrap wood again, and let them know their help painting it is very important. It will keep them busy and away from your brush. Something about the wood feels way more important than paper.
12. Soften butter fast
My husband loves butter, but I usually forget to keep some out at room temperature. When he wants some spreadable, he puts it under a glass, and it softens quickly. The best location is on top of the stove, especially if the oven was recently hot.
13. Hide greens in a smoothie and call it a Leprechaun Milkshake
This huge tub of green stuff arrived in our mailbox, and my husband said, "Oh yeah, I ordered that for us to add to the kids' smoothies." Sure, it adds a crap-ton of vegetables to the concoction, but we balance all the nutrition with a big scoop of ice cream and call them Leprechaun Milkshakes.
14. Give them a sense of control
One night we had a friend over, and when we told our very social 5-year-old it was time to go in for bed, he started to whine and complain. My husband, a negotiation expert of sorts, said, "Okay, how many more minutes do you want, three or four?" Josh then set his timer, and when it went off, our preschooler went inside with much more ease.
15. Invite them to clean the windows
One day we were preparing our house for a party, and to get the little ones out of our hair, Josh gave them sponges and buckets of soapy water and asked them to clean the sliding glass door. It kept them happy and busy for a long time. Squirt bottles also work wonders.
16. Make picking up toys fun
Our kids love using these grabbers that we got at Target for $3, and if you challenge them to pick up their toys with them, they're surprisingly engaged. Josh sometimes asks them how many toys they can pick up in one minute and sets the timer.
If you don't have a grabber, tongs work too.
17. Snapchat filter all day
My husband has never actually communicated with anyone on Snapchat. (See, I don't even know the lingo.) He does, however, go through all the filters with the boys when they need some entertainment and snuggles simultaneously.
18. Transform your dining room table into a pillow fort
Dave of Florida knows the best things in life are simple, like covering a table with an oversized cloth and putting pillows and blankets underneath to make an enchanted hideout for his girls.
19. Email your kids
I was the one who actually created email addresses for our children, with the idea to send them things and give them the password at an appropriate age. I clean out the pictures on my phone by emailing the good ones to them, but my husband sends them things that he finds inspirational, insightful, or important. I love this because even when they are much older they will have a collection of lessons their dad wanted to share with them.
20. Read bilingual picture books
We want to learn Spanish, and we want our children to also. All parties benefit from these bilingual picture books. (Josh found these and others at Target.)
21. Put your child to sleep in a dad cave
Kevin of New York tried to get his baby to sleep in an airport, and threw a blanket over his head and the baby to make a dark and comfortable environment that invited rest. Genius.
22. Put the mattress on the floor
When we had our first child, we had a one bedroom apartment, and the baby slept in our bed. We were always afraid he'd fall off when we weren't in there with him, so one day I came home and the box-spring and headboard were stored away, and the mattress was right on the floor. Now we have a much bigger home, and beds for all, but we still keep our youngest guy's mattress on the floor. We don't worry about him falling out of bed, and we also let them jump on it all they want without fear of falling off.
23. Prep breakfast ahead of time
Jon of Cultivate Tea & Spice makes a big batch of breakfast burritos on Sunday, and freezes them for the week (or two). When they all rush out in the mornings, they grab their breakfast without worrying about cooking, dirtying dishes, or sacrificing nutrition due to the morning hustle. Find his recipe here.
24. Tax everything with kisses
Your kids want a snack, or some assistance with their shoes, or to go outside? Tell them how many kisses it will cost them.
Dads, we see you, and we like what you're doing.
This article was originally published on