A Single Dad Shares His Hack For Scratching His Kid's Back Just Like Mom
Here's your big dose of wholesome masculinity for today.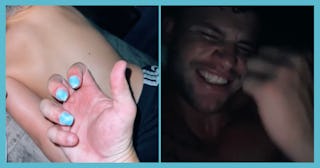 Trent Williams / TikTok
Single parenting often requires a parent to be "mom" and "dad" at the very same time. Exhausting and, at times, impossible, single parents work tirelessly to try and provide their kids with all the comforts and aspects that their mom or dad provide them with when the other is not around.
One dad went out of his way to make sure that his son felt safe and comforted during his weekend by mimicking mom's back scratches — with fake nails.
In this funny and sweet video from @trentwi11ams, this inventive dad shows his bright blue press-on nails while scratching his little boy's back.
"When it's dad's weekend & he asks me to scratch his back like his momma does but could never figure out what he meant by that until...(Dollar General sticky nails for the win)," he wrote in text overlay on the post.
In a world full of clueless dads who wouldn't dream of wearing press-on nails, there are men like Williams who don't mind doing just about anything to make sure their kid feels good, safe, and secure.
Like, is there anything better than falling asleep to a soft and gentle back scratch? I have goosebumps as I type this.
After the video went viral, gaining over 500k views, thousands of TikTok users chimed in, noting how innovative Williams' was when it came to finding a solution to his son's back scratching ask.
"This is probably the sweetest most effortful thing I've seen in a long time. Good job for figuring it out!" one user said.
Another wrote, "The fact that you even cared enough to do this is just *chefs kiss* Great job Dad!!!!"
"THIS IS HOW YOU COPARENT. Kid is understood, supported and loved 🥰" another echoed.
A fellow dad chimed in, noting that he, too, has been tasked with mimicking mom's nails for back scratches.
"😂 bro u are smarter than me I use a comb to achieve close to mom scratch😂😂😂" he wrote.
While other commenters weighed in on alternatives to press on nails like a comb or guitar picks, there is something to be said about a man who is willing to throw away any sort of toxic ideas about masculinity that society drills into us regularly and just do what's best for his kid.
In another video on William's account, he speaks words of affirmation to his son who is nervous to jump into the pool.
As his son explains why he's nervous, Williams responds, "I'm not gonna let you go, I love you."
That is what makes a good dad!
"Honestly this was more attractive than most of the thirst traps" one user joked.
She's not wrong! Single dads of the world, take note!