15 Best Kids' Dandruff Shampoos To Help Fight Flakes And Itchiness
We only recommend products we love and that we think you will, too. We may receive a portion of sales from products purchased from this article, which was written by our Commerce team.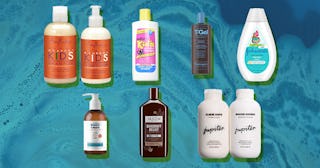 If you're on the hunt for the best dandruff shampoo for kids — whether your toddler or your teen — stay tuned for the best dry scalp-soothing, flake-reducing, tea tree-oil infused shampoos on the market. Because while almost everything looks cuter on kids' heads — little pom pom hats, bow-adorned headbands, puffy earmuffs — but there's an exception, and that's dandruff.
What causes dandruff in kids?
Dandruff in kids, which leads to a flaky, itchy scalp, can be caused by numerous things. Common culprits include cold weather, skin conditions like eczema, or — fun fact alert! — even lice treatments that dry out the scalp (though if you're going to choose between lice or dandruff, dandruff is STILL the lesser of two wicked evils). But good news, Mamas: It isn't a permanent issue, just a very annoying one. Thankfully there are many over-the-counter solutions that can help get rid of it, and they won't cost you an arm and a leg.
"Understanding complex ingredient lists can be tricky and finding kids hair products that are non-toxic, non-carcinogenic, vegan and free of dyes, unnatural fragrances, parabens, and mineral oils…is even harder," admits Kay Cola, CEO and Founder of TheOrganiBrands, makers of organic, all-natural hair and body care lines. She says she steers clear of ingredients like phenoxyethanol (aka glycol ether), which can cause reactions in people with sensitive skin, and even coconut oil, which can end up clogging pores on the scalp. (Note: The shampoos below were picked due to their high customer reviews; we cannot guarantee they don't contain any of these substances.) So, what does she look for? "Ingredients I like and would recommend using are things like Sea Buckthorn Oil, Aloe Vera Oil, and Vitamin E, which are known for their gentle yet powerful healing properties."
RELATED: How To Get Rid Of Dandruff And Say "So Long" To Hair Snow
What is the best dandruff treatment for kids?
If you've been on the hunt for a dandruff treatment for kids, look no further. Ahead you'll find 12 options for the best dandruff shampoo for kids that will help deep clean scalps without stripping away too much moisture, leaving little heads fresh, soothed, and itch-free. And we have to admit, some of these anti-dandruff shampoos are so good, even parents will want to use them. When dealing with dandruff, patience is important to remember. It can take some time to stop the flakes, but a good rule of thumb is to always keep the shampoo on hand in case the dandruff returns – especially if your kid suffers from seasonal dandruff. Because white flakes should only be around when you're playing outside in the snow.
Best Dandruff Shampoo For Little Kids
This natural shampoo has gentle ingredients like keratin and tea tree oil, which combats dandruff and a dry scalp while eliminating build-up and nourishing hair follicles. It's also sulfate- and paraben-free and contains no artificial fragrances or colors. Plus, the packaging is pretty cute.
Dr. Eddie's shampoo is pediatrician-created and dermatologist-tested, so you know it will be gentle on kids' heads. It has the FDA-approved pyrithione zinc to provide dandruff and cradle cap relief and contains licorice root extract to soothe redness.
Tear-free? Check. Toxin-free? Check. Completely hydrating with proteins and vitamins for toddlers? You got it! This Johnson's Kids Shampoo is top-rated with tons of positive reviews. If your little one is allergic to any of the usual ingredients, this is the one to try. A gentler shampoo may be all you need to help your child's scalp issues. "I was skeptical because my son has 4b hair and I didn't think this product would work on ethnic hair but HONEY!" one Amazon reviewer exclaimed. "A little goes a long way and you do not have to wash multiple times!"
Best Dandruff Shampoo For Older Kids & Teens
If you've heard of Neutrogena's T-Gel before, you're already aware of the power of coal tar extract. True + Real is a brand with comparable ingredients at a great price. This might be just the solution you need to keep dandruff under control. "Anytime I've ever had dandruff after one use of this it's gone," one happy Amazon customer stated.
Keep little heads clean with an antibacterial formula shampoo to rebalance moisture without overdrying the scalp. It has natural ingredients like lemon, rosemary, peach kernel, and jojoba oils to maintain healthy hair.
This anti-dandruff shampoo has ketoconazole 1%, a clinically proven ingredient that addresses flaking, itchiness, and scaliness at the root of the problem. "I was one step away from going to the dermatologist," confessed one Amazon reviewer. "I had severe dandruff that was so bad I could shake my head and it would come off. With just a few uses per week, I got rid of all of my flakes. My scalp also stopped burning from dryness. My hair has never been healthier."
Older kids might like using this shampoo by First Aid Beauty. It's sulfate-free, contains 1% of zinc pyrithione, and also includes vitamin E to help their strands feel healthier. It's free from artificial fragrance and is also alcohol-free. If you buy it and love it, make sure to utilize Amazon's subscribe and save offer so that you'll never risk running out.
SheaMoisture works wonders for textured hair (3a to 4c). This amazing smelling shampoo and conditioner duo will leave your little one's dry hair looking and feeling lively and clean. Amazon reviewers are big fans, with one stating that it's become the new go-to for her 3-year-old. "I bought this shampoo/conditioner set for my 3-year-old son. I am a licensed hairstylist, so I wanted something good quality and that was specifically formulated for children's hair," she explained. "I feel like I hit the jackpot with Shea Moisture. This stuff is amazing! It cleanses my son's hair and scalp just enough while still providing moisture and nourishment to his baby curls."
Great Dandruff Shampoos For The Whole Family
This popular 2-in-1 shampoo and conditioner has a pH-balanced, aloe-infused formula that fights dandruff but is gentle on the scalp. Family size will last through the winter.
This everyday shampoo has pyrithione zinc to fight flakes and leaves hair soft, fresh, and clean. One Amazon reviewer stated that Equate is "exactly like Head and Shoulders, if not better."
This is the next generation of detox shampoos. Infused with activated charcoal powder and keratin, it's free of harmful chemicals like sulfates, parabens, and silicone. It's great for all ages, so you can give the whole family the deep cleanse their hair deserves.
The Dove Dermacare collection has always prioritized banishing dandruff without completely drying out your hair with harsh chemicals. It's formulated with Pyrithione Zinc that effectively tackles dandruff on your scalp while renewing its natural moisture.
Best Paraben-Free Dandruff Shampoos
Family-tested and family-approved, Puriya shampoo has tea tree oil, arnica, sage, and aloe to remove dandruff-causing buildup and hydrate dry scalps. It's sulfate-, paraben-, and artificial fragrance-free. Customers state that it's not only helped prevent flakes, but has left hair feeling healthier. "I noticed that if I use this and then wash and then apply a small amount, I don't have to use a conditioner," one Amazon customer said. "It might be that the tea tree oil in the shampoo helps smooth out my hair."
The gentle Jason shampoo has a combination of sulfur and salicylic acid to treat dandruff, plus rosemary, olive, and jojoba oils to soothe and moisturize.
This tea tree shampoo is made with 96 percent natural ingredients and is great for sensitive kids' scalps. It is packed with nutrients, antioxidants, essential oils, and botanical essences to calm skin and strengthen hair.