Disney+ Is Raising Its Prices — Unless You're Willing To Watch Commercials
The streaming giant is also hiking the price of Hulu and ESPN+ due to operating cost losses.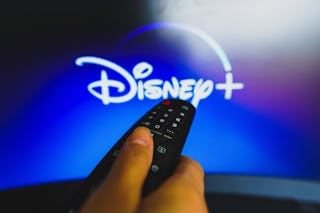 SOPA Images/LightRocket/Getty Images
We don't talk about Bruno, but we will talk about Disney+ changing their pay structure amid the streaming service's significant operating losses. Yes, inflation has hit the home of everyone from Mickey Mouse to Moana, and it's going to affect either our wallets or our viewing options.
Starting on December 8 in the United States, the cost of a monthly Disney+ subscription will rise 38%, from $7.99 to $10.99.
The slightly good news is that it will begin to offer a commercial-based subscription option for the old price of $7.99.
Disney+ CEO Bob Chapek made the announcement about the ad-based option during the company's Q2 earnings call this week, saying that, "expanding Disney+ access to multiple price points is a win for consumers and advertisers."
"Since its launch, advertisers have been clamoring for the opportunity to be part of Disney+ and not just because there's a growing demand for more streaming inventory," said Disney's advertising president Rita Ferro. "Disney+ with advertising will offer marketers the most premium environment in streaming with our most beloved brands, Disney, Pixar, Star Wars, Marvel and National Geographic."
At this point, though, it's not clear yet how many toy commercials your kids will have to watch before you can settle into Star Wars.
The rising prices won't just affect Disney+ subscribers, but other Disney streaming services as well. Hulu without ads will go up by $2 per month, from $12.99 to $14.99, starting Oct. 10. Hulu with ads will go up by $1 per month, from $6.99 to $7.99. And they already announced that ESPN+ will go up from $6.99 to $9.99 at the end of August.
A way to circumvent these changes? Consider the Disney ad-supported bundle of Disney+, Hulu, and ESPN+, all for $13.99. So if you already subscribe to two out of three services, getting the bundle will help you save. It's just like the good old days of cable packages. The price for that bundle without ads is also staying the same at $19.99.
While operating costs have soared, Disney+ is doing amazing when it comes to subscribers (unlike other streaming services like Netflix, for example). Disney+ subscriptions rose to 152.1 million in the last quarter, doing ever better than predicted.
Still, even with all of this said, the company has always planned to lose money on Disney+ through 2024. At that point, though, they'll have more subscribers and an international base that will make them profitable moving forward.
Honestly, the business aspect of it is not super important as long as kids have access to watching Gravity Falls for the eighth time through so that we can do a Zoom meeting in peace.