The Best Dog Rain Booties That Are Water Resistant, Comfy, And Obviously Adorable
Because there's nothing better than a dog with shoes on.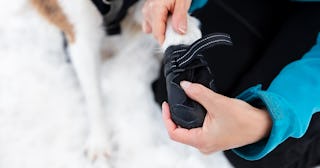 Getty Images
We may receive a portion of sales if you purchase a product through a link in this article.
Just when you thought your dog couldn't get any cuter, put them in dog rain boots. (Just as cute as kids' rain boots, if not cuter.) Go ahead, squeal. Not only are dog rain boots cute as hell, but they're also practical and protective, whether you're out on the hiking trails or walking on hot pavement or out for a stroll on a rainy day. And they go perfectly with a dog rain jacket.
Not all dog rain boots are alike, though, so keep a few things in mind as you shop for a pair. You'll want to buy dog boots with a material that is water resistant, with a rugged, textured non-slip sole. Pay close attention to the brand's size guidelines too, since paw sizes vary from breed to breed and dog to dog. Boots that are too big will slip off and boots that are too small; well, you can't wrestle a dog into those.
Do dogs need rainboots?
According to Nicole Ellis, a Certified Professional Dog Trainer, Expert Trainer on Amazon Prime's The Pack, and Pet Lifestyle Expert with Rover, most dogs don't need boots in the rain, but it never hurts to have extra protection! She also notes that you definitely should get your pup boots during snow season due to the salt and chemicals used on most wintry roads.
"When looking for dog boots, whether for rain or snow, good traction and fit are the two most important factors. You'll want to measure both the front and back paws as they are generally different sizes," says Ellis.
To measure your pup's paw, place the paw on a piece of paper and gently press down on the top to mimic how the paw spreads when your dog is walking. Mark the left and right sides of the paper, then measure the distance between the marks and choose the next largest size. If between sizes, go up.
If your dog has trouble walking at first, be patient and try again. Praise your pupper for trying new things, and give them treats so they have a positive association with the boots. It's not unlike putting shoes on a toddler. Try, try again.
Scroll on for six of the best dog rain boots. Then send us pics of your cute pups in boots, will ya?
Best Dog Rain Boots
If you have a rough 'n' tumble four-legged friend, these PK.ZTopia dog rain boots might be the best fit for your pup. They tout themselves as being sturdy, wear-resistant, and bite resistant. The booties expand to put on, and the two adjustable and reflective fasteners strap on to ensure a snug fit. As one Amazon reviewer said, "I love how these shoes protect my dog's paws. They are easy to put on and his feet are protected from heat, rocks, or anything that can harm him. I would definitely recommend them!"
One Reviewer Wrote: "I've had these boots for months, and they have held up great! I put them on my dog whenever it's rainy or muddy outside so that she doesn't track it in the house and these have been a lifesaver. They're easy to put on and take off, but if you don't strap them on tight enough, they can come off when your dog is running. The stitching on the straps is reflective so I can see her with my flashlight when it's dark outside which is a plus." — Tatum Spruce
In terms of the dog boots market, these RUFFWEAR ones are at the high point, price-wise. But for good reason: they protect your pup's paws no matter what could hurt them – hiking, trail running, hot pavement, and other outdoor adventures. They're also easy to put on, ventilated, and come with a reflective trim.
One Reviewer Wrote: "Out of the 4+ boots I've tried, these are the only ones that have stayed on most of the time. They have fallen off a couple of times when I didn't tighten them enough. He can walk and trot along varied surfaces and in puddles without them falling off. The treads are very grippy and flexible. They are also easy to hand wash and air dry." — AllieL
These Xanday dog boots check all the boxes: breathable netting, wear-resistant soles, as well as reflective and adjustable straps. And yes, you can teach old dogs new trick, like this Amazon reviewer tells: "My dog is old, and has trouble moving her back legs properly. She drags her feet, so her nails were worn down, almost to the point of bleeding. I saw these, put them on her and she has not wanted to take them off since! She walks better, faster, more sure-footed. Tried to adjust them this morning and she got up and walked away – wouldn't let me take them off."
One Reviewer Wrote: " We've had these for a year and my Sealyham Terrier wears them every day except in rain or snow. Much more durable than the ones from big pet stores, but still had holes after a couple of months. Patch them with flexseal or shoe goo and they will last a while." —NanoThePooch
These zip-up boots for small dogs have over 3,000 five-star reviews on Amazon for good reason; not only are they cute, but they're extremely functional. They come with reflective straps, which are perfect for night walks, and can repel water (but, they can't be submerged). Aside from bad weather, these are also ideal for long hikes.
One Reviewer Wrote: "They are really comfortable [for] my dog. And trust me, she doesn't like wearing shoes at all. But these are pretty helpful for any occasion, too hot days, rainy days, or trying to keep the paws clean." — Emily A.
Best Waterproof Dog Boots
In need of something you won't miss *too* much if it gets lost? Going on a trip and worried your pup will run off with a boot you'll never see again? This disposable rain boot option is great (although you can totally reuse them if you want/can), as they're made of a planet-friendly rubber that are comfortable for pups and durable enough for all kinds of weather. These come in sizes XX-Tiny to X-Large, and they're waterproof, so no need to fret about wet, cold paws!
One Reviewer Wrote: "I used to have these years ago for my first dog and they lasted more than a few years. But for some reason last year I decided to upgrade to a fancier winter boot for my dog. She hates the upgrade and refuses to walk when wearing them. So I ordered a set of Paws for her after the first snow of the year. These are just what we needed! I lay her on her back to slip them on her paws, and while she doesn't love it she lets me do it. Then we are off, it takes her a minute or two to get used to them but then she is happy to take a 20-30 minute walk in the winter!" — E M
The Cutest Water-Resistant Dog Boots
Like to hike with your pup? These dog boots might be your best bet for your four-legged friend's paws. They're soft, nonslip, and come in a variety of colors, from a neutral khaki to look-at-me lake blue. While they're not fully waterproof, you can wash them in case they get a little dirty outside.
One Reviewer Wrote: "The shoes and their structure are very nicely made around small dogs. I have a pomeranian and she usually does that awkward walk or trips anytime she has shoes/socks on. These shoes are catered around her paws and now she walks normally! Also, the rubber is good material and thick." — Phuong
This article was originally published on