Planning A Nashville Family Vacation? Here's Everything You Need To Know in 2021
by Lindsay Ferrier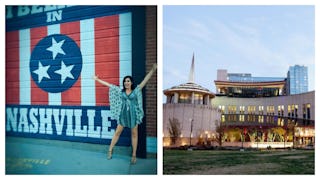 LINDSAY FERRIER / COUNTRY MUSIC HALL OF FAME
After the year we've all had, a Nashville family vacation sounds like a fun and well-deserved trip for the parents and the kiddos. With its raucous music scene, lush hillsides, celebrity chefs, and hip boutiques, it's no wonder Nashville has always been one of America's "it" cities. It's popping up on family vacation bucket lists across the country.
I've lived in Nashville for nearly two decades — and, while there's lots of family-friendly fun to be had here, you definitely need to know what you're doing to make the most of Music City. And while things begin to reopen and COVID-19 vaccines are disbursed, there are still a few differences than the normal 'ol Nashville I love. From the best time to come to Nashville, the best places to stay in Nashville, and the most fun things to do in Nashville — here are my top tips for an unforgettable Nashville family vacation (even if everything isn't quite available yet).
Best Time To Visit Nashville, Tennesse
Nashville has a comfortable climate most of the time. Avoid January and February since even a minor snowfall tends to shut down the entire city, and be aware that temperatures and humidity soar here in July and August. Luckily this year, those are the months that seem to be the safest to travel. Kind of perfect, right?
Best Places To Stay In Nashville
Need a hotel room? Not a problem. Nashville has become so popular with tourists in the past few years that hotels are popping up everywhere. The most important consideration is which part of town you choose as your home base.
Downtown Nashville has plenty of hotel options, but be aware if you stay downtown that when the sun goes down on Lower Broadway (the downtown tourist district's main drag), the area becomes one big party zone. And, while I wouldn't call it unsafe, your children may see and hear some things they've never seen and heard before. Another downside if you have a car is mandatory valet parking at downtown hotels, which costs anywhere from $35-$40 per night.
That said, if you're determined to stay downtown, some of my favorite hotels are located there, including the Omni Nashville and the Westin Nashville. Both are beautifully decorated and very comfortable. And for a real splurge, I recommend the historic Hermitage Hotel.
A more affordable and realistic option for families (particularly if you have a car) is to choose a hotel in one of the neighborhoods close to downtown. The Vanderbilt area is minutes away from downtown and has plenty of well-known chain hotels. Green Hills is another neighborhood that's safe and in the center of things, with several chain hotels you'll recognize. More and more visitors are choosing Nashville's Airbnb and VRBO homes and apartments. Just be sure and research the neighborhood before you decide on a rental. Nashville is geographically HUGE so you could end up somewhere that's technically in Nashville, but not close to anything.
Finally, Nashville's most epic family-friendly hotel has got to be Gaylord Opryland Resort. Although a good 15-20 minutes away from most Nashville attractions, chances are your kids won't want to leave the resort once you arrive. This ginormous hotel includes three beautiful atriums filled with miles of walkways and lush tropical plants, an indoor river and accompanying boat ride, three luxurious pools, lots of restaurants and shops, and plenty of family activities. It's also in walking distance from shopping mecca Opry Mills and the world-famous Grand Ole Opry, which is a fast-paced musical extravaganza anyone ages 12 and up would enjoy, even if they're not country music fans. Best of all, their indoor/outdoor water park officially opened in 2018. This hotel is so much fun that we regularly spend family weekends here — and we live just a few minutes away!
Things To Do In Nashville With Kids
The number of downtown tourist attractions can be overwhelming and expensive. Fortunately, some of the best places to go downtown are totally free!
Free Activities in Nashville
In pre-COVID times, the Nashville Library downtown was home to one of the best puppet troupes in the country. You could see free puppet shows on Friday and Saturday mornings. The library's free Storytime was on Tuesdays and Wednesdays and is also worth visiting with young children if it reopens by the time you plan your Nashville family vacation. But for now, they stream it all on Youtube. It includes puppets, singing, juggling, and more. Afterward, your kids will want to spend time playing in the library's huge three-level "reading fort," which has lots of nooks and crannies perfect for curling up with a book.
The Nashville Farmers' Market is another fun, free downtown option. We like to go first to the Bicentennial Capitol Mall's Rivers of Tennessee Fountains, where the kids can splash around to their heart's delight. Fun fact: Each of the 31 fountains represents a Tennessee river. Afterward, we walk to the Farmers' Market right next door, which is filled with produce and arts and crafts, all from Tennessee. The Farmers' Market food court is perfect for an inexpensive meal. You'll find plenty of options here to satisfy everyone's tastes. Park for free either at the Farmers' Market or in one of the many free spaces available around the Bicentennial Mall park.
The Country Music Hall of Fame
One downtown attraction worth the cost of admission is the Country Music Hall of Fame. You don't have to be a country music fan to enjoy this highly interactive walk through country music history. When you arrive, head first to the Taylor Swift Education Center on the museum's third floor for fun children's activities and scavenger hunt guides to the rest of the museum.
For an iconic Nashville photo op, don't miss two of Music City's most famous murals. The "I Believe in Nashville" mural is located at 2706 12th Avenue South. Go for the mural, stay for the shopping in this trendy neighborhood known as the 12th South district — Reese Witherspoon's store, Draper James, is right across the street and high-end denim retailer Imogene + Willie is also nearby. Just a few minutes away at 302 11th Avenue South, you'll find the famous "What Lifts You" angel wings mural. A smaller set of wings is painted beside the larger set so that kids can get in on the action, too.
Nashville's Adventure Science Center
At Nashville's Adventure Science Center, you'll find tons of cool interactive exhibits that teach kids about dinosaurs, space, gravity, and more, plus an enormous Adventure Tower with a panoramic view of Nashville at the top. While Adventure Science Center is a great option for kids 12 and under, it can be overwhelming for small children. Toddlers and preschoolers will do better at the Discovery Center in nearby Murfreesboro. This interactive children's museum is jam-packed with fun activities and there's plenty here for toddlers and preschoolers as well. It has long been a favorite with my kids and is well worth the drive to get there.
The Nashville Zoo
The Nashville Zoo hasn't been around as long as other big city zoos and is still growing. But it's still a great way to spend a few hours with the kids when you're in town, and with 375 species of animals, there's plenty to see here. The new Andean Bears exhibit is very popular and we also love Kangaroo Kickabout, where visitors can hang out with kangaroos and even pet them. The zoo also includes a historic home and farm with tours that are worth making time for. Our favorite part of the zoo, though, is the Soaring Eagle, a seated zipline ride that lifts you high above the city, then gently drops you back down at a breathtaking pace.
Nashville's Great Outdoors
Got bikes? Bring them! Nashville has several excellent greenway trails with miles of gorgeous, flat paths perfect for a family bike ride. We especially love the Harpeth River Greenway from Warner Park to Morton Mill, the scenic Cumberland River Bicentennial Trail in Ashland City, and the historic Stones River Greenway in Murfreesboro. All three trails are a great way to see Middle Tennessee's beautiful rivers and lush forest.
Another fun family option is to rent canoes or kayaks and enjoy an easy float down the Harpeth River. This tame river offers lots of opportunities to stop and splash around and it's a favorite summer activity for locals. Try and go on a weekday if you can, since the river gets crowded on weekends — or opt for a float down the less-crowded Buffalo River. You'll have to drive farther to get there, but the scenery is rural and pristine.
Nashville has some fabulous family hiking options. Expect plenty of wildlife sightings at the beautiful Radnor Lake State Park, as well as an aviary that's home to several birds of prey. Opt for a weekday hike at this popular park — the parking lot fills up fast during the weekend. The Warner Parks have miles of wooded trails for hiking, just nine miles from downtown Nashville. Start first at the park's Nature Center for advice on the best trail for your family and loaner backpacks filled with supplies that make hiking more fun for kids. Want to beat the crowds and get some great photos? Try the Hidden Lake Trail and Bluff Ridge Trail, both in different sections of the Harpeth River State Park. Both are scenic, adventurous, and never too crowded. And you'll capture spectacular family photos at Cheekwood Botanical Gardens, which features acres of flower-filled trails, a stately historic mansion, and plenty of outdoor grottos, nooks, and crannies worth exploring. Pick up a scavenger hunt list at the welcome center and make your family walk even more exciting.
Best Places To Eat In Nashville
So many restaurants… So little time! Nashville's bustling restaurant scene means you have plenty of options, but some are definitely more kid-friendly than others. For a downhome Southern meal, opt for breakfast, lunch, or dinner at the world-famous Loveless Cafe. The fried chicken, biscuits, and homemade jams are amazing and worth the drive to the outskirts of town. Another authentic Southern option that never disappoints is Arnold's Country Kitchen downtown, a no frills "meat & 3" with savory home-cooked southern food that's worth waiting in line for. (Don't worry, the line moves fast!) And for the parents, sunday brunch is coming soon! Mimosas, anyone?
The Best Hot Chicken in Nashville
Nashville is known for its hot chicken and the best place to get it is the spot where it was invented: Prince's Hot Chicken Shack. A plate of Prince's hot chicken with french fries is one of my favorite meals anywhere — and for sensitive palates, you can order the mild or plain versions of Prince's chicken and still have a fantastic meal. Hattie B's is another popular hot chicken option if you have picky eaters, since this local chain serves up kid-friendly chicken tenders in addition to the original hot chicken recipe.
The Best Pizza In Nashville
Like pizza? We're huge fans of Nicky's Coal Fired Pizza, which serves up sinfully delicious pies with inventive toppings and the best dough I've tasted in all of Music City. I especially love Nicky's "Bianche" pizzas, which eliminate the tomato base, allowing ingredients like roasted mushrooms and braised lamb to really stand out.
The Best Bakeries in Nashville
Locals are obsessed with the 100-layer donuts at Five Daughters Bakery, which come in flavors like Chocolate Sea Salt and Maple Bacon. These donuts are so delicious, I often get a box for my birthday instead of a birthday cake.
Nashville is also fortunate to have several Jeni's locations, where you'll find the best ice cream you've ever tasted. Flavors change according to season, but you can always order scoops of the popular Brambleberry Crisp and Brown Butter Almond Brittle flavors — both are absolutely amazing!
Fun Restaurants in Nashville
If you're looking for a big night out, try House of Cards in downtown Nashville. You'll feel like you've stepped straight into a Harry Potter novel in this secretive subterranean restaurant, which celebrates the art of magic and features a multimillion-dollar collection of art, antiques, and magical artifacts. Dinner includes private shows with roving magicians and a 30-minute magic show in the restaurant's auditorium.
Beyond Nashville
There are so many fun things to do within an hour or two of Nashville. Here are just a few options:
Explore Caves Near Nashville
Like caves? You're in luck. Mammoth Cave National Park is less than two hours from Nashville. With 400 miles (and counting) of underground trails, Mammoth Cave is the longest cave system in the world and it's definitely worth a visit. Cumberland Caverns is another less-crowded option, with an equally memorable cave tour. If you have younger children, consider Lost River Cave, which is a little over an hour from Nashville and includes fun tour that's easy on little ones and a boat ride in an underground lake. It's definitely an experience your family won't forget!
Learn Civil War History
History buffs won't want to skip the nearby towns of Franklin and Murfreesboro, where two important Civil War battles took place. Historic Franklin is filled with cool shops, restaurants, and antebellum homes and older kids will enjoy touring Carnton Plantation, the Lotz House, and the Carter House. In Murfreesboro, you'll find the Stones River National Battlefield and ranger-led tours on foot, bicycle, or by car. The Hallowed Ground Lantern Tour of Stones River National Cemetery is an especially moving tour option for older children. Be sure and call ahead for a reservation. Although the tours are free, spots fill up quick.
And for a truly mind-blowing experience and one of my absolute favorite things to do in the area, drive 1.5 hours to the Amish Welcome Center in Ethridge, Tennessee for a wagon tour of some of the town's Amish farms. You'll stop several times to shop for Amish housewares, baked goods, furniture and produce and get a fascinating inside look at how the Amish live and work. It is a truly memorable experience.
You're ready now for a Nashville family vacation of a lifetime! Enjoy your visit and don't forget to pick up a pair of cowboy boots while you're here!
This article was originally published on