A Man Went Viral For Refusing To Give Up His Spot On A Ride To A Crying Child
He took the last ride of the day on a Formula 1 test drive ride.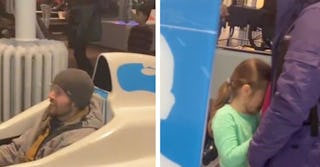 TikTok / @myrightmiddletow
Kids have to learn life lessons the hard way sometimes, right? For one little girl, her time in line was all for naught when the grown man in front of her snagged the last ride of the day on a Formula 1 simulation ride. And while some may think it was pretty cruel of the man to not offer up his spot for young child, TikTok users are giving this guy nothing but praise.
In a now-viral six-second video posted by TikTok user @myrightmiddletoe, a man is seen standing in line next to what appeared to be a model of a racing car, alongside the on-screen caption, "When they say you're the last one able to ride today and you deny the little kid behind you asking to trade places."
The video showed the man looking at the camera, smiling, before it panned to reveal a line behind him that included a couple of young kids.
The video — which went massively viral with over 9.9 million views and 2 million likes — then showed a sign that said the ride was a "F1 test drive" and specified that the exhibit closed at 4:55 p.m., and visitors should "please consider this when joining the queue."
The video itself doesn't have sound revealing what anyone was saying, but does include the trending TikTok sound bite featuring actor, Mo'Nique, reciting a line from the BET+ original movie — The Reading.
"Man, F—k them kids, and f—you too," she says in the clip.
The caption of the TikTok read, "as soon as this happened this sound came to my mind to use."
As the sound plays, the clip cuts to a shot of one of the children turned away from the ride with her head buried in what appears to be her father's legs, seemingly crying. The video them pans to the TikToker, grinning while sitting in the vehicle, finally getting his turn on the ride.
The video received over 6,900 comments which mostly expressed words of support for the man's decision to keep his spot in line.
One user wrote that while tough, kids need to learn some hard life lessons sometimes like the fact that sometimes life is just unfair. "Gotta teach them you don't always get what you want in life!" they wrote.
Another TikTok user pointed out that this is kind of a dad fail anyway because he clearly didn't read the sign about time limits (or didn't care).
"Not your fault the parent didn't get the kids there in time," they commented.
Moms were even weighing in, siding with the man in the video. "As a mom of 3...love that for you 🤣🤣🤣🤣" one mom wrote.
Another parent chimed in, "As a parent i agree, he got there on time when he should. My child would have to wait for a different day."
There are several debates about how much leeway kids should be given when it comes to allowances in life like when it comes to swapping seats on planes so families can sit together or behavior in restaurants. Though it seems that the general consensus is that people should not be expected to be give up their seats, spots in line, and overall comfort for other people's kids unless safety is a factor.