A New Jersey Restaurant "Takes Control" And Bans All Children Under The Age Of 10
Nettie's House of Spaghetti announced the news on their social media to an uproar.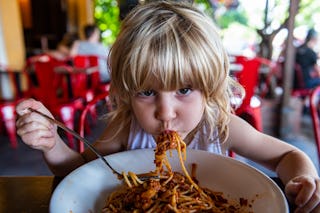 Westend61/Westend61/Getty Images
The option of bringing kids to a restaurant has always been a case-by-case basis for most parents. Every family and every kid is different. A parent usually knows whether or not their kid is ready for a night out at a restaurant and if that restaurant is kid-friendly enough. Or at least, they should.
A simple Google search can tell a caregiver if the dining establishment will welcome their children with kids' menus and coloring pages — or if you'll be served a fresh dish of dirty looks when you walk in with a stroller in tow or a couple of toddlers.
So, what happens when a used-to-be family-friendly restaurant decides to change their minds? A popular New Jersey restaurant has sparked debate over its decision to ban children under the age of 10 from dining.
Nettie's House of Spaghetti made the announcement on their Facebook page, explaining their reasoning behind the change, noting that "noise levels" and "cleaning up crazy messes" were not worth the trouble.
They wrote, "We love kids. We really, truly, do. But lately, it's been extremely challenging to accommodate children at Nettie's."
"Between noise levels, lack of space for highchairs, cleaning up crazy messes, and the liability of kids running around the restaurant, we have decided that it's time to take control of the situation."
"This wasn't a decision that was made lightly, but some recent events have pushed us to implement this new policy. As of March 8, the day we return from our winter break, we will no longer allow children under 10 to dine in the restaurant," they wrote.
The restaurant anticipated the frustration from parents and explained that they understood where the confusion was coming from but were deciding to stand strong on their choice.
"We know that this is going to make some of you very upset, especially those of you with very well-behaved kids, but we believe this is the right decision for our business moving forward. Thank you for understanding," the post concluded.
Unsurprisingly, the controversial post's comment section (and so many other comment sections on their page) was met with parent's questioning the Italian restaurant. Some thought the move made sense, chalking this up to poor parenting while others thought the move was a bit drastic.
"That is really sad to hear. I was looking forward to trying out your place but with a well behaved 9 year old I'm not welcome, sad," one mom wrote.
Another echoed, "Good luck staying open with only angry nothings who hate kids to support your business."
One user brought up an interesting point when it comes to the "no young kids" rule. "You [realize] all the parents who dined with you now are expected to spend additional money for a sitter?"
If that's truly the case, many parents might opt to make dinner at home or order take out instead, which could actually lose this restaurant revenue.
While some parents expressed their grievances with Nettie's House of Spaghetti's decision, others — many of whom seemingly worked in the food industry — were in total support.
One Facebook user voiced their support for Nettie's, noting that "kids are out of control."
"Fantastic idea… having worked in the industry since I was 14, i've never seen anything like I have in the recent past. Kids are out of control and most parents are oblivious. The disregard for manners and common decency is unreal. I worked in FH and was disgusted by the behavior. Good for you for taking a stand," they wrote.
The restaurant responded, saying that with kids running around with no supervision has made the entire environment a legal risk for the Italian food spot.
"Thank you for the support! [Its] become a liability to us — kids running around the restaurant in circles when we're trying to carry trays of food and drinks has made doing our jobs extremely difficult," the restaurant wrote back.
Another supporter voiced their appreciation foe the rule on the restaurant's Instagram.
"You just gave me a reason to go check out your restaurant! I'm tired of going out for a quiet meal with my husband only to have kids running around all over the place while their parents ignore them as they continue to enjoy their meal! YOUR kids, YOUR responsibility! The rest of us shouldn't be inconvenience because of them!!! I SUPPORT THIS RULE 10000%"
If what Nettie's is claiming about how their staff and restaurant is treated by families with kids is true, it can be understandable why they had to take such a harsh measure.
Others, though, wonder how they'll enforce it — once asking if they'll be carding elementary school kids at the door.
If you're going to brave a sit-down restaurant with young children, it's on the parents to make sure their kids stay by their table, keep a normal level of volume, and — if a mess is made — they do their best to clear it up at the end of their meal. My husband worked in hospitality and the food industry for many years so we're plate stackers and table wipers at every restaurant we go to.
And Kids do not need to be running around like maniacs in a restaurant. If you can't pack a bag with on-the-go activities like mini-magnet tiles and sticker books — or, hell, even a screen with some headphones — it might be better to stay at home with your rambunctious crew.
If you assess as a parent (because you know your kids best!) that they are not quite ready for a sit-down meal, then don't take them.
And regarding the food industry: taking measures to make your restaurants kid-friendly will probably help business (and help parents stay sane). But also, not every single restaurant can be a kid-friendly one.