The Best Face Washes For Teens With Oily, Sensitive, And/Or Acne-Prone Skin
We only recommend products we love and that we think you will, too. We may receive a portion of sales from products purchased from this article, which was written by our Commerce team.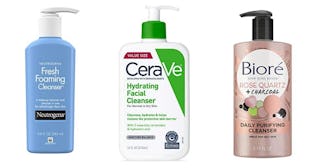 Amazon
It's weird when you finally have to find a good face wash for your teen. It was only yesterday you were picking out *your* first facial cleanser — how did we get here?! Anyway. Being a teenager is hard enough without having problem skin to deal with. With teenage hormones come teenage breakouts, so it's important to start a skincare routine early on in life — despite how annoying it can be to have to run through all the steps of cleansing and moisturizing (and toning, sometimes!).
RELATED: Get Ready For Your Glow Up With These Easy Homemade Toner Recipes
At what age should teens start a skincare regime?
The sooner the better, according to Dr. Sheilagh Maguiness, a Pediatric Dermatologist and Co-founder of Stryke Club, the skincare line for teen boys. Teens have evolving skincare needs due to the onset of puberty, which is why she believes getting into a great skincare regime early will be very beneficial for teens. Many tweens and teens have started their skincare routines as early as 11 years old.
What ingredients to look for in teen face washes
"In the early teen and tween years, before hormones start increasing, I typically recommend keeping things very simple," Dr. Maguiness says. "A gentle, non-detergent, fragrance-free, hypoallergenic cleanser used twice daily is the perfect place to start. Getting into a great skincare routine early is a wonderful idea for our teens."
During and after puberty is when most teens struggle heavily with acne.
"When acne starts to become a concern…washing your face twice daily is really important," Dr. Maguiness adds. "Consider a cleanser with ingredients that have proven efficacy in acne and acne-prone skin. Cleansers with benzoyl peroxide 5-10% are widely available over the counter and can be effective for acne. In addition, cleansers containing salicylic acid 1-5% are also widely available. Salicylic acts as an exfoliating agent, helping to unclog pores. Finally, cleansers containing sodium hypochlorite can also reduce bacteria on the skin and are emerging choices for acne-prone skin."
As for ingredients to avoid, Dr. Maguiness says to stay away from parabens, phthalates, sulfates, synthetic fragrances, and preservatives that can act as formaldehyde-releasing agents (such as Bronopol, DMDM Hydantoin, Diazolidinyl Urea, etc.)
***
Finding a face wash for teens, though, shouldn't be hard, which is why we've done the work for you. We've shopped out a selection of cleansers that are made for sensitive teenage skin, many of which target breakouts specifically. And while many of these at-home skincare products are great to keep skin clean and smooth, if acne (or any other skin-related concerns) persist, it might be time to check in with a dermatologist for a more involved remedy. But for now, check out these face washes for teens.
Best Face Wash For Teens
Best Face Wash for Teen Boys
This article was originally published on