51 Gifts Dads *Actually* Wants For Father's Day
by Jenny Altman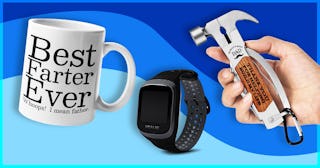 The best Father's Day gifts are right here, so you can stop your searching and start scrolling. Trust us, we have 'em all: Gifts from daughters, sons, and wives; gifts for grandpas, stepdads, and future fathers. Personalized gifts. Cool gifts. Funny gifts. Cheap gifts (don't worry, we won't tell). No, we're not kidding when we call this the ultimate Father's Day Gift Guide — although, Dad jokes are always welcome around here.
But first, a moment of appreciation. While he may not be the one homeschooling the kids (or if he is, buy him everything he wants this year), he is Dad. Keeping the kids out of your hair, getting them off of their screens to do every sort of outdoor activity under the sun, even introducing them to the joy of music— Dad is there to teach the kiddos about life. Then there's Grandpa, who's there to bestow his wisdom (and debauchery?) on another generation, and let's not forget the stepdads and soon-to-be dads who all deserve some recognition on this special day. Yes, the dads in our lives just have a way of making things better; whether it's with a silly game, a power tool (yikes!), or a simple hug, they're the real-life superheroes who always save the day.
RELATED: The Most Awesome Race Car Toys And Tracks For The Kid Obsessed With Racing
We're bringing you our top gifts so you can give him a little somethin' somethin' to make him feel appreciated and loved. Finding a great gift for dad isn't as hard as you think— we've done the heavy lifting so you won't have to.
Best Father's Day Gifts
RELATED: 10 Best Bourbon Glasses That Truly Bring Out The Flavor In Your Drink
Father's Day Gifts From Daughters
Personalized Father's Day Gifts
Father's Day Gifts For Grandpa
Funny Father's Day Gifts
Father's Day Gifts From Kids
Cool Father's Day Gifts
Father's Day Gifts From Wife
Stepdad Father's Day Gifts
Cheap Father's Day Gifs ($20 and under)