Fertility Supplements That Can Help You Get Pregnant, According To Experts
by Jenn Sinrich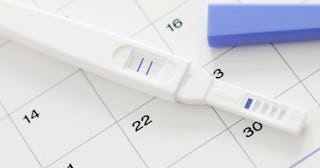 Getty Images/SCIENCE PHOTO LIBRARY
It's not surprising that a lot of people search for fertility supplements to help them on their pregnancy journey. While some people seem to pop out babies like it's going out of style, others have to actually try to get pregnant. Unbeknownst to most of us for the majority of our childbearing years, this shit's not nearly as easy as our sex ed teacher tried to brainwash into thinking. In fact, an estimated 1 in 8—aka 12 percent of us—struggle with infertility, which by the technical term is trying for a baby for an entire 12 months without getting pregnant.
RELATED: Looking For Tips On How To Get Pregnant Fast? Here's What You Should Know
Those statistics are quite alarming, but what's even more jaw-dropping is the cost of fertility treatments. On average, fertility costs ranged from $1,182 for medications only to $38,015 for IVF, according to a study published in the journal Fertility and Sterility. And those aren't even the costs of successful outcomes—those skyrocketed to $61,377 for IVF.
Whether it's been a few months or a few years of TTC, it's unspeakably frustrating to baby dance with no success (and spend months using ovulation predictor kits). The good news: You're not alone. Hundreds of thousands of women and men are in your shoes. What's more: Science is advancing and more and more products are on the market every day that promise to help your chances of conception (and at the very least not hurt it).
RELATED: Ovulation Calculator: Find Out The Most Fertile Days In Your Menstrual Cycle
From fertility supplements to sperm-friendly lubes, here are some of the best products that might boost your chances of getting pregnant this month.
Best Ovulation Test
RELATED: Not Sure When To Take a Pregnancy Test? This Calculator Will Help
Best Fertility Supplements and Vitamins
Best Drugstore Buys
Best TTC Journal
Don't forget to stock up on these pregnancy essentials that'll come in handy during those nine months and beyond.
This article was originally published on