My Baby Was One Of The First To Have Fetal Spina Bifida Surgery
by Akosua Taylor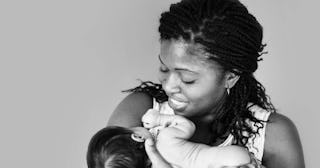 Courtesy of Akosua Taylor
One of the funny things about life is just as you think you have it all figured out, the universe reminds you of how little you control. I was the one who literally had the next ten years of my life mapped out. I had recently gotten my dream aerospace engineering job, had a wonderful family which included my almost 3 year old daughter with a new addition on the way. I could not have asked for more. My reality began to implode when I was 20 weeks pregnant and learned my second daughter would be born with the most severe type of spina bifida. And so begins our story of confusion and fear, but also of love, hope, and abundant blessings.
On July 10, my daughter turned one but it was her second "birthday." She is one of a handful of children who can say they are "twice born." Her first 'birth" occurred when I was 25 weeks pregnant with her and she became the first baby in the southeast to have fetal surgery. Doctors removed my uterus to operate on her 1.5 pound body and close the opening on her back, stopping additional damage to her exposed nerves.
Her second birth was when I was 32 weeks pregnant and my daughter, Celeste decided she would make her arrival much earlier than planned weighing 4 pounds 10 ounces. Even then, she same into this world kicking, screaming, and doing everything a healthy baby should do. In-utero surgery is not a cure for spina bifida and it is not for everyone but we felt like it was something we could do to jumpstart our daughter's chance at a normal life. In sharing our story we hope to offer a glimmer of hope to other in similar situations, to those facing unknowns and what seems like never ending darkness there is hope.
The following is written by Araba Taylor, sister of mom Akosua Taylor
Part 1: The appointment
Celeste Victoria entered the world (partially) for the first time during the third week of May. Unlike most babies, she remained tucked away in her mother's uterus with just a small portion of her lower back exposed to the world. This brief introduction lasted for approximately 45 minutes, after which, she was promptly tucked away again. Her first appearance was short but highly anticipated, with an operating room filled with some of the United State's top pediatric medical professionals. In fact, it was so well-attended that there was a broadcasting screen where those not directly participating could watch live as Celeste's almost-birth took place.
Weeks before, all of this was unimaginable. Her parents, Akosua Taylor and Fernando Pinto de Arruda were excited to meet their second child, but the agreed upon a due date which was to be September 4, months away. They entered the routine anatomy scan appointment on April 20, 2018 expecting to exit knowing the sex of their baby. This day and the weeks following changed Celeste's entrance into the world from simply the miracle of birth, to a miracle of faith, science, and family.
The appointment began as usual, but when the normally chatty ultrasound technician became quiet, Akosua and Fernando sensed something was wrong. The technician asked if they had gone through the genetic screening. Akosua responded "yes" and everything was normal.
"I'm going to be honest," the tech told the concerned parents. "The baby's feet and spine look weird, and there is something wrong with the head. I can't tell what it is, but something is definitely wrong. I'm going to send the images and have you talk to the doctor."
The technician's honesty, though appreciated, led to a million spiraling questions in both Akosua and Fernando's minds. They braced themselves, waiting for the unknown, Akosua began to think through her every action over the course of the pregnancy, asking herself ,"What did I do wrong to make this happen to my child?"
The subsequent interaction with the doctor, though encouraging, offered no additional information. After reviewing the ultrasound images, she told them directly, "I don't know what's wrong and we're going to refer you to a specialist. But, you know, I believe in God and though hopefully it's nothing, I want you to know that you didn't do anything wrong." An appointment was made for the upcoming Monday to meet with a specialist. They left the doctor's office, the original purpose of finding the sex of the baby all but lost in the midst of the day's revelations.
The upcoming appointment, a weekend away, was an agonizing wait. With no diagnosis, Akosua and Fernando held their breaths and prayed for their unborn child's health. Fernando's mind immediately jumped to the worst case scenarios — what if the baby had brain damage? Anxiously awaiting Monday, he imagined the burden this would place on their older daughter, Gabriela, as he and Akosua aged.
When Monday finally arrived, Fernando, Akosua, and Akosua's mother, Daphne, went together as a united front. During the appointment Daphne stayed in the waiting room waiting in anticipation for news. The ultrasound was thorough, with the technician cheerily pointing out the baby's organs and even revealing to the couple that their child was a little girl.
"She was so excited and acted like everything was normal," Akosua later described, "but I had my eyes closed the whole time, because I was still in panic mode." Once the doctor arrived it was all a blur, he told them that the baby had spina bifida, that meant she had an opening on of her spine where it had not formed properly leaving the spinal cord exposed and unable to drain fluid from the brain, that mobility-wise… they'll see what happens. That there's a place starting to do surgeries, but who wants to be the first? That once born the baby may need a shunt, to relieve pressure on the brain. A flurry of medical terms and possibilities were presented to the family and they were sent home to process.
After the appointment, even with the confirmed diagnosis, Akosua and Fernando felt better. "Honestly, I zoned out towards the end, because once I knew that she could be and would be okay — I knew that I could breathe again," Akosua recalled. "She wasn't going to be brain dead, or a vegetable — mobility was entirely secondary once I knew that she could be happy and healthy." Fernando had a similar mind-set, "Mobility is not a big issue in the 21st century in the United States–Akosua has an engineer coworker with mobility constraints who drives herself to work with an adapted car…I was very relieved." Though still unsure of the exact next steps, the small family knew that there was hope in the midst of the medically unexpected.
Part 2: The Community
The next day, Akosua stayed home from work and researched her child's diagnosis.
She explored the Spina Bifida Association of Central Florida's website and tried to better understand the day-to-day realities of the diagnosis. The information she found on those sites gave her encouragement. However, as she googled spina bifida more widely, she soon encountered more frightening content; drastic images of spinal cords askew and stats about early deaths due to kidney issues and renal failure. Though she later learned this information was outdated, in those moments she was devastated.
So, she did what many a grown woman in crisis opts to do, she called her mother. Daphne was able to calm Akosua down and steer her online efforts back towards the official associations and support groups. She returned to the Spina Bifida Association of Orlando's Facebook group and saw pictures of happy toddlers and children. She reached out to those children's parents in short Facebook messages, explaining her recent diagnosis and asking for their stories. One such message read, "I am 20 weeks pregnant and recently got a spina bifida diagnosis for my baby. I came across pictures of your daughter and at this time I really need encouragement and stories of hope. Anything that you would be willing to share would be greatly appreciated."
To her surprise, the parents replied. They shared stories of their children's beginnings — doctors discussing terminating pregnancies before confirmed diagnoses and medical discussions about how babies would have limited quality of life. These same parents sent pictures of their healthy happy children leading full lives. One parent replied with an even more specific directive, she asked Akosua for her number. On the phone, the kind stranger gave Akosua advice about what doctors to go to and offered to send additional resources and specialists to call. She explicitly mentioned that there was a doctor from Saint Louis who had come to do surgeries at the Spina Bifida Clinic. "Tell them I sent you," she said.
Akosua hung up the phone and shared her findings with Fernando. From there, she began to make calls and leave voicemails. By 5 p.m. that same day, she'd gotten a call back from Diane, a nurse at the Center for Maternal Fetal Medicine who was part of the Spina Bifida Fetal Surgery Team. An appointment was scheduled for the following week for Akosua to meet the entire team.
Part 3: The Surgery
The MOMS (Management of Myelomeningocele Study) Trial was finally on the family's radar. The study's purpose, comparing two spina bifida treatment approaches, meant their baby girl would have either surgery before (prenatal) or after (postnatal) birth. The research proposed that prenatal surgery could significantly improve a child's long term health and outcomes. Once they found out that Celeste was eligible for the prenatal surgery, the two parents went into research mode. Akosua spent time talking to people who had undergone the surgery and watching YouTube videos about the surgery and Fernando poured over scientific publications, exploring the risks. After extensive family discussion and prayer hey made the decision to move forward with the prenatal procedure. Akosua and Celeste were scheduled for surgery on Wednesday, May 23rd — less than a month after that first diagnosis.
Less than two weeks after the decision was made, it was time. The family arrived at the hospital at 4 a.m. to get prepped for the early morning surgery. Akosua had spent the prior week preparing for the surgery, getting blood drawn, meeting with hospital staff, and receiving shots to mature the baby Celeste's lungs in case she needed to be delivered during surgery at 25 weeks. Despite the early hour, excitement permeated the air. Over the course of the four-hour surgery, Akosua's uterus would be removed and opened just enough to reveal Celeste's lower back. From there, the neurosurgeon would repair the 2 centimeter spinal defect and return the uterus. It was a risky surgery with a track record of positive outcomes.
"I guess it's naptime," Akosua joked as the nurses approached to wheel her bed to the operating room. As she was wheeled into the hallway Akosua greeted more doctors than she could name — all medical professionals excited to witness this momentous day for the hospital.
Part 4: Celeste's Arrival
The time following the surgery was tenuous. Even as the gap in little Celeste's spine was mended, doctors would need to conduct regular ultrasounds and monitoring of her brain and movement both before and after birth to gage the success of the procedure. In order to maintain a sense of normalcy for their older daughter, Akosua recovered while staying with her parents and Fernando remained home focusing on his work and their older daughter, Gabriela. This arrangement was short lived, as a reaction to the post-procedure medication caused a significant blood pressure drop and put Akosua back into the hospital. Just two days after release Akosua's water broke and, at 27 weeks pregnant, she was back in the hospital until Celeste was born. It was mid-June and Celeste was not due for three months.
By July 10th, Akosua had spent more than 3 weeks without leaving her hospital room.. Each night, Fernando spent the night at the hospital and would go straight from the hospital to work. This day was exciting for Akosua. She had not left the floor of her hospital in almost a month and had an MRI scheduled for today. The MRI would take place in the hospital across the street so she considered this to be a big outing.
Akosua's mother had come to the hospital so that she could be there for the 32-week MRI. While waiting, the nurse mentioned the baby's heart rate was not showing enough variation. This happened often and usually shifting in bed would be enough to change the baby's heart rate so the two women were not concerned when the nurse went to fetch the doctor, as their providers had been very thorough up to this point. Upon arrival, he announced that they were going to do something called a biophysical profile (BPP) test where they measure the baby's activity during a 20-minute period. After 20 minutes, the baby had not responded at all — and Akosua decided it was time to call Fernando.
Exhausted from juggling days at work or with Gabriela, and nights at the hospital, Fernando had his phone on silent, no response. Soon, more doctors and nurses began to arrive and things became chaotic. Before Akosua knew it she was being rushed to the operating room for a C-section. Her mother called Fernando's office directly this time and was able to reach him. "It didn't feel real," he said reflecting, "and even then I thought it may have been a false alarm." When he arrived at the hospital, he was immediately scrubbed in for surgery — ready to meet his daughter.
Despite her sudden arrival, Celeste's parents were calm during the C-section. Though disappointed by the early delivery, Akosua thought, "She is only 32 weeks…almost 2 months early, so if she doesn't cry it's okay, because I know she is in good hands, she has good doctors, so I don't need to freak out…But when they got her out, I could hear her crying, that surprised me, but in that moment that's what I needed. That fact that she came out and she was screaming, it felt like such a blessing…"
Part 5: Home at Last
Celeste's arrival was joyous, but feelings were mixed. "Holding her for the first time was good, but also hard…I was afraid because of all the wires and I felt like I needed to apologize to her, like I had let her down for not getting to 35, 36, 37 weeks…"
Akosua and Fernando now spent their days and nights in and out of the NICU, praying and sharing updates with family and friends. Logistics and scheduling were difficult, with family rotating visits virtually around the clock. However, the NICU experience was not all negative.
"All the nurses and the doctors that we met in the NICU taught me a lot …in movies and TV, I would see this place with teeny tiny babies that were kind of scary looking. But when you're there and it becomes home. Yeah, there are some tiny babies that are fighting for their lives — but they're little humans and they're stronger than you could ever imagine."
After 6 weeks in the NICU, Celeste came home. Though many challenges (and doctor's appointments) remained ahead — this major step was worth celebrating. Asked on Celeste's outlook for the future, Fernando proudly stated:
"Celeste is fine, she may have to work a little harder on mobility than most children — but she will not be the first person to have to overcome an adversity and she is very blessed in many other areas. She's blessed to have access to the care that she needs, two loving parents and an awesome extended family and friends. A large community of God followers who can pray for her and extend her love. Like her sister, Celeste is a warrior and she has more things going for her than against her."