We Probably Need To Give Our Firstborns A Little More Credit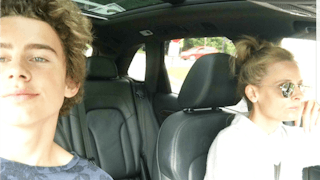 Katie BIngham-Smith
When I discovered I was pregnant with my second child, I was happy, sure, but I have to admit it wasn't the same elated feeling I had the first time around. I cried (more than once) about what I was doing to my oldest child. I felt I was somehow cheating him. I valued our time together — it was golden — and those couple of years with just him will forever be some of the most meaningful years of my life.
After a friend told me giving him a sibling was the best gift I could give, my perspective changed a little — until my water broke while he was napping and I panicked because I had to see him before I gave birth to his sister. What kind of mother would I be if I just took off for the hospital and didn't squeeze him to my chest and tell him how much I loved him and that things were going to change a little?
The waterworks started flowing hard and fast as I made my way upstairs before calling my husband to tell him I was in labor. First, I had to wake my son and have a few more moments with him while it was "just us." It felt way more important than letting him finish his nap or scrambling around to make sure I had everything I needed.
That baby, my firstborn? He will be 14 next week.
Sometimes I look at him and long for him to be little again. I still miss when it was "just us" sometimes. I want him to know how much he has given me. After all, he is the one who made me a mother. We navigated our way through so many firsts together, some good and some not so much. But there wasn't anyone else I would have wanted to learn alongside. Our oldest kids have a big job that they don't ask for, and may not even want, and there are times when I forget that truth.
I try to steal him away from his brother and sister every once in a while (when he has time for me) to let him know I still see him. I know it isn't easy being the oldest. I know it's not always fun to be the "guinea pig" kid and have to be first in line for everything.
Whether they remember it or not, firstborns, along with their parents, experience a huge life change when their new siblings arrive. Mamas are spread thinner, the dynamics change, and we are left with less time and energy for them. It's inevitable. And it's tough for the whole family.
But it certainly doesn't mean we have forgotten what it was like to hold them in our arms and spend our days devoted to them without another child to take care of. Nothing will change the fact that they were they ones who made our heart burst inside our chest. Your first child changes you in ways you had no idea were possible.
Those afternoons when you were able to focus all your attention on them, and only them, will go down as being some of your most precious memories as a mother. It is so hard to come up for air and give undivided attention to a child when there is more than one, and it's natural for both the parents and the child to miss that connection.
I know there are times I expect too much of my son just because he is the oldest. I know I am hard on him. I know his job of being the oldest comes at a price he doesn't always want to pay. Firstborn children naturally feel the need to look out for their siblings whether they want to or not — it's a big task and sometimes they take their job a bit too seriously.
His siblings look up to him. He is admired, and nothing will ever change that. It's a huge responsibility, and sometimes I don't give him the credit he deserves because he fills the role so well. His siblings are lucky kids.
But holy crap, I love him in a way that is different than I love my other two children; it's not more or less. It is just… different. He will always be the one who made me a mama. And it is OK to miss that dynamic — I know I do every day, and I hold those memories close. I hope he knows it.
This article was originally published on