A Mom Searched Everywhere For Toys That Look Like Her Son — And Fisher-Price Came Through
Well, this is the sweetest thing ever.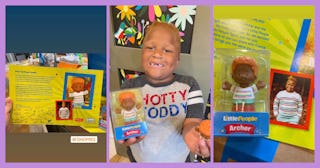 Instagram / Niki Coffman
One adoptive mom, Niki Coffman, went out of her way to make an everyday thing for a lot kids a reality for her five-year-old adopted child — Archer aka "Archie" — she just wanted to find a toy that looked like him!
Coffman had noticed that Fisher-Price and their Little People collection excelled in representation for all walks of life with their wide-ranging appearances and abilities of their Little People. Still, she still couldn't find a figurine that looked exactly like her son.
"It's a complicated, huge responsibility when you're a white parent adopting a child of another race," Niki told Today. "We knew that going in, and I knew how important it would be for us to make sure that he could see himself."
"What is hard to find is a toy with brown skin and red hair," she said. "So I wrote to Fisher-Price, thanked them profusely for the work they were doing, and then left a P.S. that said something like: 'If you ever decided to design a Little Person with brown skin and red hair, please let us know.'"
Much to her surprise, Coffman received a response from the VP of Design at Fisher-Price, Gary Weber.
"Your story has been shared with everyone who worked on the Little People figures you mentioned, and to say that it made our day would be an understatement," Weber wrote.
"You and Archer have inspired us! We know that when kids play with Little People they are playing out scenarios they see in the world around them, and feeling like they are a part of that world is critical."
Weber concluded the letter with a request for the family's address, and later that month, Fisher-Price sent a framable letter signed by everyone on the Little People team along with a very special Little People figurine — one that looked just like Archer.
"They got the whole outfit perfect—the sweater, the green shorts, his little loafers," Coffman said. "They got his hair perfect."
She said upon opening the package, she immediately burst into tears.
"Archer asked why. I said, 'Archer, they made you.'' His little jaw dropped," she recalled. "He snatched the box out of my hands...whipped around and shouted, 'It's me! It's me!' He showed everyone. He didn't put (the toy) down all day."
As for Archer, he described the feeling he gets when he can't find toys that resemble him as "not good."
"Everyone should have that," he said. "It makes them happy."