The Best Fitness Trampolines To Bounce Your Way to Wellness
by Rachel Aschenbrand-Robinson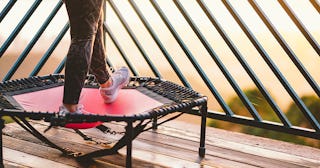 Getty Images/Chee Gin Tan
If you're looking to mix up your at-home exercise routine (or start one), fitness trampolines are the perfect option. You already know trampolines are a godsend when it comes to getting your kids' energy out, but bouncing is also great for grown-up bods. Fitness trampolines are fun, easier on your body than the hard ground (especially for lower areas like hips, knees, ankles), and they get your heart pumping. Plus, jumping on a trampoline and releasing your inner bounce house-loving child doesn't really feel all that much like exercise. And those are always the best workouts, right?
Is an exercise trampoline a good workout?
"We've found that whether you're rebounding for cardio or using the trampoline as a tool for balance and strength work, the trampoline is an essential piece of equipment," says Aly Giampolo, Founder and Method Director at the ness, a beat-based, low-impact, high-intensity trampoline cardio and sculpt workout. "Not only is bouncing three times more effective than running, the number of calories burned and increased endurance built in 30 minutes of running can be achieved in just ten minutes of bouncing. It's also one of the best ways to activate your lymphatic system, which allows your body to clear out toxins as well as improving circulation and immunity."
Another surprise benefit of trampoline workouts? "Although bounce is categorized as a cardio workout, the necessary act of stabilizing your body on an unstable surface throughout a bounce session is essential for pelvic floor maintenance and recovery," Giampolo continues. "Staying low and pressing down into the trampoline through your heels while engaging your core to stay light on your feet allows you to find that elusive sensation of lift in your pelvic floor without doing a kegel." Well, okay.
Which trampoline is best for exercise?
When it comes to shopping for fitness trampolines, the options are plentiful and it can be hard to know which pick is right for your purposes. There are mini trampolines that are perfect for smaller spaces, many of which fold up for easy storage. For those worried about durability and support, there are trampolines designed to support weights of over 400lbs. Some trampolines come with features like adjustable handles, and some are great for both indoor and outdoor use.
So which is the best fitness trampoline for you? We chatted with a variety of trainers and fitness experts to get their top picks for the best fitness trampolines. Ahead, shop favorites from Giampolo and more!
Best Fitness Trampolines