Florence Museum Invites Students & School Board To Visit Statue Of David
"To think that David could be pornographic means truly not understanding the contents of the Bible," the museum director said.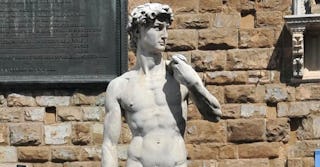 Mondadori Portfolio/Mondadori Portfolio/Getty Images
After a principal was forced out of her job after allowing students to view the statue of David without permission from their parents, the director of the Galleria dell' Accademia in Florence, Italy, Cecilie Hollberg, invited everyone involved in the controversy to come see the famed 17-foot Renaissance statute themselves in person and experience its "purity."
"To think that David could be pornographic means truly not understanding the contents of the Bible, not understanding Western culture and not understanding Renaissance art," the museum direction said.
The Mayor of Florence also extended an invitation to see the world famous piece of art.
"Mistaking art for pornography is just ridiculous. I personally invite the teacher to Florence to give her recognition on behalf of the city," he wrote in Italian. "Art represents civilization and whoever teaches it deserves respect."
The principal, Hope Carrasquilla, said in a phone interview with ABC News that she is "very honored" by the invitations to Italy and she may accept.
"I am totally, like, wow," Carasquilla said. "I've been to Florence before and have seen the David up close and in person, but I would love to go and be a guest of the mayor."
The Tallahassee principal is officially out of a job following parental complaints that her Renaissance curriculum was too risqué for sixth-grade students.
Sixth-grade students learned about Michelangelo's marble sculpture of the Biblical figure David during an art lesson at the Florida school, prompting outrage from some parents who found the timeless and celebrated piece of art to be "pornographic."
The now-former Florida principal told HuffPost the situation was also "a little more complicated than that," noting that protocol is to send parents a letter before students are shown such classical artwork.
However, there was a "series of miscommunications" between the Florida's Tallahassee Classical School and parents, leading to no notice going home to parents before the sculpture viewing.
One parent was "point-blank upset," Carrasquilla continued, and "felt her child should not be viewing those pieces."
Carrasquilla explained that she has taught the lesson for years now, and knew that there would be some pushback.
"Once in a while you get a parent who gets upset about Renaissance art," she said.
School board chair, Barney Bishop, supported parents in their outrage. He also told HuffPost that nude sculpture incident was one of multiple issues with Carrasquilla.
"Parental rights trump everything else," he told the HuffPost.
Bishop also claims that Carrasquilla resigned from her position during an insufferable interview he had with Slate.
"They didn't like the woke indoctrination that was going on," he said.
Apparently, it's "woke" now to educate middle schoolers about classic pieces of art that have been deemed as masterpieces for literally centuries.
"We don't use pronouns," Bishop said. "We don't teach CRT and we don't ever mention 1619 — those are not appropriate subjects for our kids."
This kind of sentiment from Bishop and the like should come as no surprise considering the history of Tallahassee Classical School.
The school's "classical education curriculum model" is an increasingly popular pedagogical model in Florida that advocates a return to the foundational tenets of Western civilization. The school is affiliated with Hillsdale College, a conservative Christian college that has sought to "fight leftist academics." Yet, the school is funded by tax payers.
According to the HuffPost, Hillsdale College has raised funds for Tallahassee Classical School by pledging to fight "leftist" and "distorted" teaching of American history, such as the lessons about slavery.
According to the Tallahassee Democrat, Tallahassee Classical School is a charter school experiencing some troublesome turnover. The school has now lost three principals since it opened in 2020.
The move to oust Carrasquilla from her position comes on the heels of a wave of conservative legislation in Florida.
US. Florida governor Ron DeSantis has consistently targeted schools for their "woke" agendas from signing a bill to ban transgender athletes from girl's public school team to passing the Parental Rights in Education Act, which prohibits any conversation about sexuality and gender in kindergarten and the first three grades of elementary school.
For all the conservative rightwing talking heads who constantly refer to "the radical left" as "snowflakes" who always need trigger warnings, why does it seem that they are the ones constantly offended and perpetrating the cancel culture they so passionately rally against?
This article was originally published on