From The Confessional: 'I Can't Stand My Only Other Mom Friend'
16 parents share their anonymous confessions about friends, partners, in-laws, and more
by Emma Coburn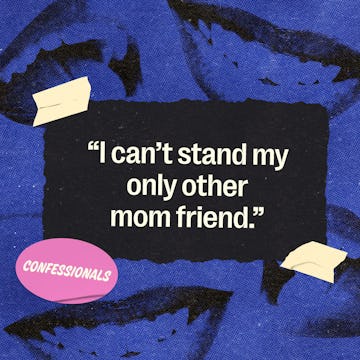 Emma Chao/Scary Mommy; Getty Images
You may be reading this while hiding in your room at home, waiting in the camp pick-up line, or even on one of those "vacations" with kids that always end up leaving you more exhausted than you were before. Wherever you are, scroll on for 16 parents' anonymous confessions about kids leaving for college, annoying in-laws, husbands with bad breath, and more.
Scary Mommy Confessions are a tried-and-true part of what makes our site so fun. If you want to anonymously confess, please tell all through the link here. And if you want to browse past Confessions, head here.
I can't stand my only other mom friend 🫠 
Confessional #61729910
Sometimes I find it hard to love myself
Confessional #67182993
My daughter just left for college and I am not ok/haven't slept. Hubby unfazed
Confessional #66172891
I love my husband but his breath is awful and it drives me crazy.
Confessional #61728921
I'm ready to lose it on husband because he spends 45min x2 in the bathroom daily pooping!
Confessional #91872673
Currently on "holiday" with husband and toddler secretly planning a solo vacation
Confessional #61729199
My hubby never wants to have sex. I know he isn't cheating but what about my needs?
Confessional #61728829
Preg with#3 and regretting it how will i handle three??
Confessional #61728192
Deleting my social media & making new accounts under an alias cos I cant stand my inlaws
Confessional #61099029
my husband's been gone on a golf trip for 4 days, there's no grumpiness here and I love it
Confessional #67188923
My baby is 10 months old and I still can't figure out her sleep, food or play cycle.
Confessional #66172435
I feel my brain has turned to mush since becoming a SAHM
Confessional #66172232
I dread my kids coming home from preschool and daycare every day
Confessional #61432987
No one knows how to do the dishes until I go out of town-suddenly-Sally Homemakers! Annoying ASF.
Confessional #66109283
After 16 years together my husband feels like a roommate. Is that enough?
Confessional #68825430