A Thoughtful Mom's High School Graduation Gift For Her Daughter Is Going Viral
The notes on the "Open When" presents will make you tear up.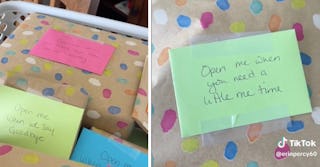 TikTok / @erinpercy60
Still mulling over the best graduation gifts for a recent graduate? This month, millions of kids are throwing their caps into the air, celebrating their journey into college or the "real world", and preparing to begin a new chapter of their life. While the moment is so bittersweet for parents who swear their precious babies were just going to kindergarten yesterday, this also means tons of celebrating. And spoiler alert: a meaningful gift for grads that they'll actually use is hard to find.
While there is no shortage of graduation gift ideas (especially on TikTok), one mom is going viral after she shared arguably the best gift for a high school graduate. It's and Open When present — and it's personal, fun, and sure to make everybody ugly cry.
This TikTok mom made her daughter an Open When letter box filled with presents.
Erin Percy (@erinpercy60) shared her brilliant and thoughtful Open When graduation gift she plans to give her daughter before she heads off to college. Percy wrapped a bunch of presents with little "open when" letters to let her know the exact right time the gift will come in handy as her daughter makes her own way in the world.
Set to the always tear-inducing musical score from the Pixar film, Up, Percy takes TikTok viewers through her graduation gift TikTok viewers are obsessing over.
"Open me when it's cold outside," the first gift's note says.
Another reads, "Open me when you catch a cold."
Other cards read: "Open me when you need a little me time" and "Open me when you need to break the ice with new people."
Percy has thought of so many scenarios a new college freshman may face during their first year where they may not know exactly how to handle the situation because well, mom was always there.
"Open me when you don't have time to do laundry," another present says.
"Open me when you get your first A," one card reads.
Percy also has a present for her daughter to help with their goodbye, when she needs a quick pick-me-up, and a special card for before she takes her first set of midterms.
And another great thing? All the gifts fit into a laundry basket — a must-have for any kid hitting the dorm and taking care of themselves for the first time.
The Open When letter graduation gift soon went viral on TikTok.
The video, which garnered over a million views in just two days, hit home with so many parents who had kids leaving the nest.
"I'm surprised this doesn't have more views! Your daughter is so lucky to have you! This is so sweet," one user wrote.
Percy replied, "Thank you! She will be 9 hours away and it's so unreal I won't see her often."
Another wrote, "The goodbye one — DAMN! For parents, this one leaves a mark. You can instantly remember the moment you left them."
Several TikTok commenters were dying to know what Percy had included as gifts.
"Oh my goodness what a cool gift!!! You're a great mom I would never think to do something like that creative! I want to know what's in these!!!" one user wrote.
Another said, "ahh i need to know whats inside! we are currently touring colleges for my daughter and I would love to do something like this for her."
For now, Percy is keeping the specifics of the gift private. Maybe she wants the exchange to remain special between her daughter and herself, or she might not want to spoil the entire present for her kid.
Either way, this viral wrapped present graduation gift has to be one of the most personal and thoughtful ideas out there.
How to make an Open When gift box for your graduate
If you're stumped about where to even start with making an Open When letter gift for your graduate, think about all the scenarios the person you're gifting might encounter during your time away from them. Open When letter gifts are typically made for those who are going to be separated for a bit of time — like a college student. But they are also great ideas for a new parent or someone starting a new job or a new chapter in their life.
Open When gifts contain gifts and letters you write to someone to tell them exactly when they should open each gift or note. Open When gifts are personalized to the receiver and should speak to who they are. Try thinking of moments that you'll be sad to not be there for, a moment when they'll need a little extra love, then center the gift or note around that. Gifts like "open when you're having a bad day" or "open when you pass that test you studied hours for" will be the perfect start.
What do you write in the Open When letters?
Once you have your gifts all sorted out, a little note that explains each gift (or maybe no gift at all!) truly brings the entire gift together. A note of encouragement, advice, or just an "I'm here for you" type message can make the gift personable and fulfilling. What would you say to your graduate if you were in the room with them during this big (or small) moment? Write that down.
Open When gift occasions
As you can see from the video, Open When gifts are perfect for a graduating high school senior who is leaving for college or moving out for the first time. But there are other occasions when this style of gift can be really meaningful.
A gift for new moms or new parents
A gift for someone starting a new job
A gift for someone moving away
A gift for someone going through a hard time
A gift for someone going through a divorce
A gift for someone going through chemo or with cancer
A wedding gift
Open When letter gift ideas
Stumped on where to begin with your Open When gift for a graduate? Here are some ideas to get the ball rolling.
Open when you're happy
Open when it's a rainy day
Open when you're getting ready for a first date
Open when you can't sleep
Open when you miss me
Open when you need a good laugh
Open when you feel like staying in
Open on a Friday afternoon
Open when you need a study break
Open when you're homesick
Open when you have a hangover
Open when you have the Sunday Scaries
Open when you need a reminder of how much I love you
If being crafty isn't your thing, there are several websites, like Etsy and other independent artists, who have created pre-made Open When letters for you to grab ideas and inspiration from.