A Grandma Saved Her Change For Three Years To Buy A Prom Dress For Her Granddaughter
That's one dedicated grandma.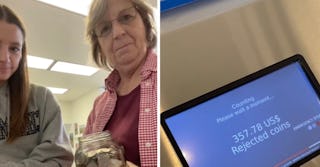 TikTok / @luvjaydens
Prom season is around the corner and teens all over the country are on the hunt for the perfect prom dress. Many eons ago, when I was in high school, I wore a strapless, blindingly bright coral dress with a humongous skirt that puffed out about a mile. That was the style back then, okay? Please do not judge me.
Regardless of what's trending this spring for prom fashion, there is no doubt that it'll cost a pretty penny. That's why one grandma decided years ago that she was going to save her pennies (literally) and help her granddaughter out when it came time for her senior prom.
High schooler Jayden (@luvjaydens) went viral on TikTok after sharing how her sweet grandma, Kim, saved up her change for years to help her fund a prom dress.
"My grandma has been saving these pennies since i started high school," said @luvjadens. "She saved them to buy my senior prom dress."
She then shows footage of the duo heading to the bank to cash in the coins, even jamming the machine in the process because she had saved up so much.
"Get a grandma like mine," she captioned the now-viral video that has over 16.2 million views on TikTok.
Thousands flooded the teen's comment section, gushing over how sweet her grandma's act of kindness was.
"tell your grandma how much everyone loves her," one user wrote.
Another mentioned that the special moment made her miss her own late grandma. "Don't ever stop spending time with her! You'll miss her. I wish mine was around for prom," they wrote.
So, was grandma's penny pinching worth it? In a follow-up video, Jayden explains that the original total was $357.93. However, the bank took a 5% cut of the total, so she ended up coming away with around $340.
According to Amarra — a retailer that specializes in them — a prom dress in 2023 can cost anywhere from $85 to $700 depending on where you shop and what kind of dress you go for.
Seems like Jayden will have no issue finding something stunning to wear.
"For all of you saying you love my grandma," she says in a follow-up video. "I swear, she didn't even know I was posting this."
She then shares screenshots of her text exchange with her grandma where she congratulates her granddaughter on the viral video in the most hilarious and unbothered way.
"Apparently you made me [TikTok] famous. There is over a million views on that money changing s—t girly girl," the text reads.
Jayden goes on to say, "For everyone in the comments that was being really nice to Kim, Kim loves y'all."