10+ Epic Asks For The Teen Who Needs Promposal Ideas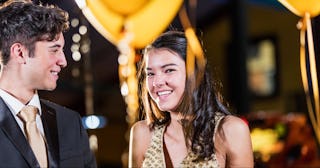 kali9/Getty Images
'Tis the season — prom season, that is! That's right. An adolescent rite of passage, prom is just around the corner. You know how it goes, right? Tweens and teens ask their crushes to prom. They shop for the perfect dress or tux. They do the whole pre-prom primping ritual, followed by the nervous date pick-up (pics or it didn't happen). Then they dance the night away. It's an experience they'll remember forever. Well, for some it goes like that. For others, it's merely a blip on their adolescent radar. Whatever the case, the whole prom experience has become a bit more extra than in years past. Used to be, you'd walk up to the classmate you were crushing on in the hall or after school and nervously mumble, "Will you go to prom with me?" The answer: a simple yes or no. Now, the ask is an experience in itself. It's a prom proposal, AKA a promposal. Yep, that's a thing if you didn't know.
In recent years, kids are getting more and more elaborate with how they ask each other to prom. Hence the name, promposals. They do things like stand outside a window with a boombox (a la John Cusak in Say Anything), hire skywriters, or fill a room with rose petals and get down on one knee. Think marriage proposals — for teens. A bit melodramatic, you say? Well, maybe. But, we're all for celebrating young love. So, count us in.
It's for that reason we took an IG deep dive to pull together the most adorable, most creative, and most unique promposal ideas around. Hopefully, this list will give your teen some inspiration in planning their own epic ask.
11 Cute Promposal Ideas
1. Simple, Yet Sweet
Low-key and simply stated, this sweet ask is just right for those who don't want a big fuss. It's a thoughtful gesture, and we all know you can't go wrong with good chocolate.
2. "Be My Person"
Calling all Grey's lovers. If your teen loves this soapy medical drama, here's a cure for their ailing heart. "I know I'm not McSteamy or McDreamy, but will you 'be my person' at prom?" Swoon. This would melt even Cristina Yang!
3. Just Friends
Speaking of great TV, the show Friends ranks right up there with Grey's Anatomy in terms of epic storylines and unforgettable characters. This is actually a HOCO (aka homecoming) proposal and not for prom, but it was too cute to leave off our list.
4. A Ballin' Time
https://www.instagram.com/p/B9z6KgHgyuJ/
For athletic aficionados, here's an idea you'll love. You'll need nothing more than some poster board, paint, and your sports ball of choice. Basketball was the theme here, but any sport with a ball would work. Better getcha head in the game!
5. Flyin' High
This promposal was taken to another level — quite literally. If you've got access to a plane, this is definitely one to consider. Most don't, but it was too "fly" not to add to our roundup.
6. Keep Me Posted
https://www.instagram.com/p/BuPGeYaAxqo/
The creativity here? Bar none. We love the unintended use of office supplies and the witty play on words! We'd say yes.
7. The Golden Era of Promposals
https://www.instagram.com/p/BoWi_AUlUiw/
This kid pulled out all the stops. Who can resist precious puppies? This is a surefire way to win someone's heart.
8. Pizza Please Go To Prom With Me?
You can't go wrong with a pizza promposal, especially in the shape of a heart. Flowers and puppies are charming and romantic, but so is a pie with the words "Prom?" spelled out in pepperoni. And let's face it. It's definitely one of the easier promposals, and just as effective. It's pretty hard to turn down pizza, especially one as cute as this.
9. Pandemic Promposal
https://www.instagram.com/p/B-xOCApj3fd/
Of course, our list wouldn't be complete without a coronavirus-themed ask. We'd be remiss not to include a pandemic-friendly promposal for those who need a smile after the insane year we've all had. If prom's still happening where you are, consider this a socially-distanced way to your crush's heart.
10. Super Promposal
Who can turn down a man (or lady) in tights? Superheros have always had good luck with their love interests, so if you want your Lois lane to say yes to prom, dress up as their favorite superhero and write this on your poster: "It would be super if you went to prom with me." It's a little cheesy, but the cape and costume will definitely earn you some major points.
11. Donut'Cha Wanna Go to Prom with Me?
Nothing says I like you, like a box of donuts. Find out your crush's favorite flavor and bring them a box of donuts with the words, "PROM?" written on each pastry. Not only is this a great way to start your morning, but it's almost impossible for anyone to turn down a box of donuts. You can get them from Dunkin' or stop by their favorite bakery for a personal treat. And when they say yes, you can seal the deal with a sweet sprinkled baked good.
This article was originally published on