The Cutest Grandpa Ever Took Peppa Pig's Family On Vacation With Him
"Best grandpa award goes to you dad," his daughter captioned the video.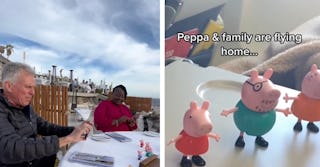 TikTok / @lifeoftanyamarie
If there was a Cute Grandpa Hall of Fame, this man would have his own exhibit. In a truly rockstar grandparent move, this man decided to make the most of his granddaughter's sneaky little move of putting a couple of toys in his luggage before he headed off on a trip.
TikTok user @lifeoftanyamarie documented the entire vacation through the eyes of the Peppa Pig characters that the little one snuck in to his bags— in a now viral TikTok video.
"So you guys wanna see the sweetest thing," she narrated, showing footage of her dad filming the Peppa Pig characters lounging poolside. "My niece took her favorite toys and packed them into my dad's luggage."
"He has been making this story of all their adventures for her, and he's gonna play it for her when he gets back."
She then cuts to footage of her dad filming the Peppa Pig figures floating in the pool. "Don't go too far off in the middle!" he says to the toys.
He then takes the toys to dry off on a pool chair. "After some time in the pool, now we're going to sunbathe while we dry off!" he says with his phone in hand.
The grandpa also took the Peppa Pig figures to a lavish dinner on the beach. "We're going to have a fancy meal here," he says behind the camera focused on the Peppa characters. "We better be on best behavior!"
He then jokes, "Don't drink too much!"
At another meal, his daughter captures just how much fun her dad is having filming these short little videos for his granddaughter. He even starts to explain the creative process behind these videos, really getting into it in the most ridiculously adorable way.
"I can't wait to go down to the beach with them, bring them out there, bring a little napkin, lay them down" he says to the table.
In a final clip, he bid farewell to their AirBnb. "Peppa and George are leaving the AirBNB today to go to the resort," he narrates, focusing in on the characters who have been placed on a stone bench. "Pan out!"
"Pan out?!" his daughter repeats, seemingly shocked at her dad's commitment to this bit. "I'm dying."
The video went viral, garnering 7.7 million views and over 1.7 million likes, and users flooded the TikToker's comment section with words of admiration and love for this adorable grandpa.
One user wrote, "Some people are just meant to be parents 🤍🤍🤍 you are very blessed my friend."
Another echoed, "Priceless. This could choke anyone up. They better save these videos."
While people gushed over the grandpa's big heart, the majority of users cannot wait to see the final result.
"I NEED TO SEE THE VIDEO," one user wrote.
"COMING SOON 🥰," she replied.
In a follow-up video, @lifeoftanyamarie included a snippet of some of the footage that his granddaughter watched when the rest of the family arrived home from vacation including the Peppa characters on the airplane.
"Last day on vacation ... It's time for Peppa to get back to her favorite people ..." she wrote on the video. "Peppa made it back to my niece and nephew safe and sound..."