The Best Flippin' Gymnastics Mats For Acrobatic (Or Accident-Prone) Kids
We only recommend products we love and that we think you will, too. We may receive a portion of sales from products purchased from this article, which was written by our Commerce team.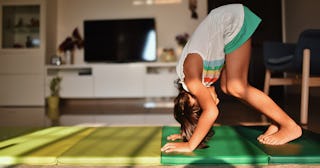 Getty Images
Looking for the best gymnastics, tumbling, or cheer mats for kids? That means you either have the next Simone Biles on your hands or a kid who will definitely never reach the Olympics but will likely become a local celebrity at your pediatrician's office for Most Impressive Injury. We all know that feeling of panic the first time we watch our LO attempt a backflip on a backyard trampoline, in a bouncy house, or off the couch. Let's face it, your kids are going to do somersaults and cartwheels all over your house whether they are intentionally pursuing gymnastics or just pretending to be Batman, so you might as well throw down some extra padding to reduce your emergency room copays.
As a matter of fact, a kids gymnastic mat or tumbling mat is a great piece of kid gear for any kind of indoor play. It's also useful if you have a toddler who's a new walker and/or has a death wish who needs more cushion than your typical baby play mat. They create a designated play space and provide an extra layer of cushion between your precious youngster and the hardwood floor. But not all mats are created equal, so there are a few things you'll want to look for.
What is the best gymnastics mat to buy?
First, you want something with a non-scent-absorbent cover. Don't let the size of children's feet fool you – they are more than capable of reaching adult-level funky if given the right conditions. And you'll want something that can be stored away with minimal effort, and something that can be transported from basement to garage to living room to yard without throwing your back out.
What is the best thickness for a gymnastics mat?
If your child is seriously into gymnastics and tumbling, it's always best to ask their coach or instructor what the best type of mats and equipment to use (material and thickness) for their age and skillset to prevent rolled ankles and other injuries.
That said, we rounded up the most highly-rated options out there, and included info like material and thickness so you can choose from the best of the best. So here are the best gymnastics mats, cheer mats, and tumbling mats for your little acrobat, as well as some gymnastics gear, to really round out the daredevil experience.
Best Gymnastics Mats
Best Tumbling Mats
Best Cheer Mats
Best Gymnastics Equipment For Kids