10 Tips For Hosting A Large Crowd For Thanksgiving And Not Going Insane
by Amy Makechnie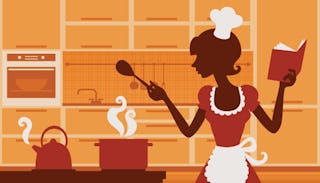 My mother makes "Hostess with the Mostess" look easy. She's relaxed in the kitchen, chatty in the living room. And she smiles a lot. This year, for our annual family reunion, the hosting baton was passed to me. Genuinely thrilled the whole clan was coming from across America to gather in my home for Thanksgiving, I also began experiencing a heartbeat rivaling that of a very loud drum. Great hosting questions loomed: Would all 28 people (including 15 children) happily squeeze into our 1900-square-foot home? Would the house stay standing? Could I exude a warm, zen-like vibe over the span of three weeks? Or would I melt into a bedraggled wreck? Would the septic tank explode?
I'm happy to report success. We had a grand time. I'm hopeful our guests might even come back when it's my turn to host again (a good 5-6 years away.) Will you be hosting a large crowd for Thanksgiving? Here are my best tips:
1. Clean. And Then Let it Go. This is just something you have to come to terms with: No one cares about your cream-colored carpet as much as you do. Tiny tots will step on the cream-colored carpet and leave dirty footprints. Repeatedly. There will be spills, dirt, and fingerprints left on every surface. In preparation for our family reunion, we cleaned everything, even baseboards and refrigerator coils. I was so neurotic I painted all the white trim and the inside of a closet. When the guests arrived? Out came our favorite Frozen song: Let it go.
What a shame it would be to let crumbs overshadow the great importance of families gathering. Houses are not museums. Guests don't visit so they can judge your ceiling fixtures (though they might). They come to see you. My mother always said it was the feeling of a home that mattered far more than the stuff inside. Let it go.
2. Rent a porta-potty. Do it. It's novel, exciting, and cleaner than you remember! Since I live out in the sticks, we have a septic tank. With so many people flushing, poop overload is a worry. The porta-potty turned out to be a brilliant septic solution and provided that one extra bathroom every family reunion needs.
3. Individual Space. We sure love each other, but we still need space. We assigned each family their own room using three bedrooms, the study, and the great outdoors. We borrowed and set up multiple tents outside. Tents are more weather-dependant than a house, but they were an especially fun (and needed) option for all the cousins.
4. A Big Chore Chart. As the host, it's likely you're doing the majority of the cooking. But you can certainly assign out table setting, water pouring, sweeping, and dishes. Avoid host burn out by delegating. It's easy for women to be the martyr. Don't be. It's not impolite to ask for help; it's smart. For me, a big visual chart is the best way to stay organized and accountable. Pair cousins together, offer small treats for best attitudes, and get everyone's input. Then put that chart on the wall!
5. The Small Touches. Little things often make the biggest difference. Borrow porta-cribs, high chairs, white noise machines, and car seats so parents don't have to travel with so much stuff. Your guests will be touched by your thoughtfulness. Leave chocolates on pillows. Have extra toothbrushes and pillows. Buy or borrow games like croquet, Can Jam, and badminton. Fire pits are awesome. Our best solution for nighttime sleeping was setting up a giant fan upstairs. It drowned out fussy babies, late-night talking, and early risers.
6. Food. Go All Out. If you make it, they will come. And keep coming. Like most families, the kitchen table is our favorite family gathering place. For added flair, you could make native dishes. As east coasters, we had a lobster bake one evening; a novelty for Midwestern and rocky mountain family members. Like Pavlov's dog, memories of good food will provoke salivating and happy thoughts. Guests will dream of your special apple sausage cornbread stuffing and hope you host every year.
7. Bathe in the Great Outdoors. This is not a joke. Save your water bill and frustrating bathroom lines by having alternate bath options. We live on well water that can run dry, but just about everyone has hot water issues with large crowds of people. Make bathing an adventure! Buy Dr. Bronner's bio-friendly peppermint soap and live out your Tom Sawyer fantasies in the river. It tingles! It's refreshing! It's a one-of-a-kind bathing experience. Practice your salesman skills and peer pressure techniques to guarantee full participation. Okay, November is a tough sell in most parts of the country, but it's worth a try. Kids will be especially game!
8. Downtime. The chore chart will keep you organized, but the family nap can never be underestimated. Remember to schedule down time. Sometimes, the best afternoon is the empty schedule. We have the most success when we offer many activities, and are flexible enough to scrap when needed. You want guests to go home refreshed, not exhausted. Must-have activities for my family are: family photos, kickball, a talent show, late-night gelato runs, and a daily devotional. Everything else depends on energy.
9. Travel in Style (May I Suggest a Bus?). Surprisingly, traveling by bus turned out to be a reunion highlight. We were lucky to have connections to a school that let us borrow two buses and just pay for gas. Not only did we save thousands of dollars on car rentals, but were able to travel as a large group everywhere we went. The kids thought it as exciting as an airplane, and parents were able to converse. If you're able, consider renting or borrowing a comfortable bus rather than individual cars that separate family.
10. Be thankful. My brothers, sister, and I are grown up and spread across the country now. My parents are getting older. We all have busy family lives and are only able to gather once a year. There are no guarantees with the future. If you are lucky enough to sit across the table with friends and family this year, give thanks. Clean white carpets or not, love is the only thing worth worrying too much about.
If anything, hosting was the perfect exercise on how to appreciate my mother. To you ambitious hosts: Good luck. It's not easy, but it's always worth it.
Related post: How To Clean Your House In 10 Easy Steps
This article was originally published on