I Don't Want To Be Friends If You Judge My Parenting
Even if we've known each other forever, I've got my limits.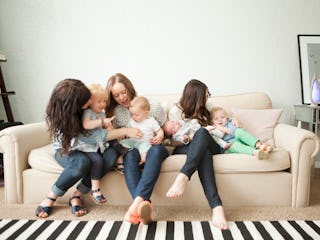 Jessica Peterson/Tetra images/Getty Images
It's one of those things that you really don't prepare for. You spend so many years of your life cultivating little pockets of friendship based on your shared interests, values, and experiences. Then one day, you become a parent — and everything changes. Because now, it is no longer just about you. Even when you are alone, so much of who you are is now intrinsically intertwined with the existence and the decisions you are making for the little humans you have created, and it affects everything, especially friendships.
It's hardest when it impacts relationships that predate parenthood. After years of easy, drama-free friendship it can feel like an unexpected plot twist when parenting differences start wedging their way into the fold. And honestly, it sucks. But it happens all the time. Because in parenthood, feelings of judgment and conflict can be hard to avoid, even with the ones you love most.
Sometimes it happens in obvious moments, like when your bestie reacts in an unexpected way when her son decides to sucker punch your precious daughter in an argument over a blue dinosaur. Instantly a situation created entirely by people other than yourselves can bring on a host of unexpected feelings and discomfort based on how it's handled. Maybe they didn't hold their kid accountable, or maybe they reacted too strongly — either way it can have an impact.
Other times it may be more indirect. Like when a friend declares her very matter-of-fact (and differing) opinion on screen-time during a casual girls' night dinner, or posts an Instagram story on the importance of exclusively breastfeeding. Or when she super casually informs her kids about the importance of avoiding sugar at the picnic table while your kid is elbow deep in a bag of dry Fruit Loops one bench over. All of a sudden, what was once a simple, easy, fun-loving relationship filled with commonalities and shared values can start to feel loaded and stressful. And it's frustrating, because in theory the addition of your kids should only enhance your important relationships, but sometimes it makes them more complicated.
It also has an enormous impact on building new friendships. Since becoming a mom, similar parenting styles might be the single biggest factor in determining my relationship success. Because it just makes interactions so much easier and less stressful when you feel comfortable and understood. When your wildly extroverted, sometimes embarrassingly defiant and loud kids can be themselves during a group hangout and you feel free to handle situations the way you see fit, you can let your guard down, roll your eyes, laugh it off, and feel free of potential judgment.
And I'm not saying it's not possible to stay or form friendships with those who parent differently. Of course there are many people who despite their wild differences find a mutual love, respect, and understanding for one another free of judgment and stress. And what a beautiful thing! I would actually love to find that more often for myself — but my overly-loud and anxious brain tends to get in the way — leaving me feeling insecure and judged in many of those relationships.
So from now on, I'll lean into parenting commonalities when forming and building my friendships. It might not sound all-inclusive, but it works for me. Because especially at this stage while my kids are little and chaotic, these friends provide the uncomplicated space that I need. And in a world that currently feels so inherently conflicted and hard, I need friendships to feel easy.
Samm is an ex-lawyer and mom of four who swears a lot. Find her on Instagram @sammbdavidson.