23 Lovely And Meaningful Indian Names For Your Sweet Baby Girl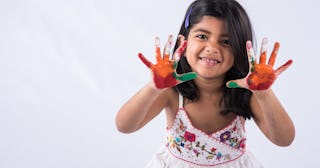 subodhsathe/Getty
If you're looking for inspiration in your search for baby names, check out our list of the top baby names for boys, girls, as well as unisex options. Perhaps you're on the search for short one-syllable names for girls and boys, or maybe nicknames as first names for your little Ace — we got those too.
No matter how submerged in your heritage you may be, once you have a baby you suddenly feel overwhelmingly drawn to, and indebted to, your past. Your grandmother and great-grandmothers' stories suddenly go from sweet anecdotes to a treasured part of your own history. And, as the arrival of your baby girl draws near, you find yourself looking for more and more ways to honor that past.
RELATED: 21 Popular Indian Baby Boy Names Rooted In Tradition And Culture
One easy way to pay tribute to the amazing Indian women that came before you: Name your daughter after them. Even if you don't particularly love the names you find on your own family tree, there are thousands of meaningful Indian names you can choose from. We looked over India's list of most popular baby names and set out to highlight some of our favorites. Take a look. Hopefully one of these gorgeous names will be the right mix of tradition and beauty you're looking for to name your oh-so-perfect bundle of joy.
Meaning "first power," Aadhya is meant for a feminist in the making.
Hoping to bless your baby girl with a name that sends her rocketing into excellence and good social standing? Aalia means exactly that. And, even though the double-a might throw off some people, it still has a familiar pronunciation.
Of course, if your little girl has already become your reason to breathe and eat or if you expect her to grow up and lead a nation, Adweta might be an even better choice. Meaning, "inspirational," it's the perfect name for any future feminist.
How would you describe a baby girl? "Beautiful" usually comes first, but innocent or pure quickly follow. Tagging your daughter with a name that means "pure" might just be the twist you need in order to seal the deal on a kind-hearted, good-spirited girl.
Either of Chandani's meanings might resonate with you if you're a bit of a romantic. Or maybe "moonlight" and a "winding river" just played a part in the story of how your baby girl came to exist.
If you're a bit of a naturalist, you'll love Daksha. It literally translates to "The Earth." Naming your little girl Daksha can only mean one thing: She's born to be a climate activist.
One of the most popular Indian girl names, Divya means "divine." And divine is exactly what we think at first sight of those scrumptious baby cheeks and wiggly little toes.
If you're hoping to raise a truly compassionate child, choose a name that holds similar meaning. With a name that means "kind and merciful," we just can't imagine a Daya that turns out to be a bully. She'll rescue forest animals and befriend outcasts, for sure.
Like a lot of mamas, you might have waited a very long time for your new little bundle of baby girl. If so, she might feel extra "beloved" and that makes Dayita the perfect name for her.
Maybe your little girl already radiates beauty and positive energy? If so, Eta might be an excellent choice. It means luminous or shining.
Did you spend nine months trilling happily to your baby? If so, a name like Geet or Geetika might be in order. While it sometimes translates to "beauty," the Hindi translation is "little song." How sweet is that?
Another Hindu name with Sanskrit origins, Kamya means "wish" or "desirable." If your one wish was to be a mama, Kamya is the answer.
Hoping to bestow good fortune onto your little girl? Lakshmi was the Goddess of wealth. You know what that means: She'll be able to afford a really nice retirement home for you.
If your baby girl was born with eyes wide open and curious, Naira is the perfect name choice. This Muslim name has plenty of meanings but our two favorites are "woman with big eyes" and "shining."
Another name destined to bestow luck onto your baby girl? Ridhi means prosperity.
While Vanya has many meanings, even within Indian culture, the Hindi translation is "God's gift."
17. Mamta
Sanskrit in origin, this Hindi name means "affection" or "love" and is specifically meant to describe a mother's love and affection. What more perfect name can there be for your little baby girl?
This Sanskrit name is the best of both worlds for your little one. It sounds gentle and lovely, yet it has a dynamic meaning: "lightning."
Should you choose this Hindi name for your daughter, you'll always be reminded of morning's promise. Why? The sweet moniker means "dew drops."
Could this name be any cuter? It's short and fun, but it also has a traditional Hindi sensibility. And the meaning is particularly impactful: to "fulfill a wish."
Your daughter is destined to be one-of-a-kind, right? Well, then there could be no better Indian name for your little one than Advika. This Hindu name means "world, earth, unique" and "a unique girl, no copy or duality."
There's no doubt that every time you look at your little girl, your whole soul will be flooded with warmth. That makes this name pretty darn perfect since it means "warmth." It also means "one who is heaven-sent."
If you haven't picked a name for your little girl by the time of her arrival — and she makes her debut during the day — consider Aahana. It means "born during the day" and "first rise of the sun."
This article was originally published on