The Best Beach Chairs For Kids & Toddlers Who'd Rather Not Sit In The Sand, Thanks
We only recommend products we love and that we think you will, too. We may receive a portion of sales from products purchased from this article, which was written by our Commerce team.
by Anna Baboval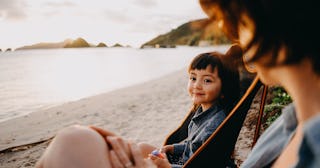 Getty Images/ Ippei Naoi
Folding kid's beach chairs are perfect to keep in the back of the car for every family outing year-round (okay maybe not winter in the Northeast), long outlasting their expiration date style name. Folding beach chairs sure do give us a moment of peace when our threenager is demanding a grownup toddler chair (seriously, their teeny booty can get up off the sand way quicker than ours can!) whether it's sitting on the sidelines at a soccer game or staking out a primo 4th of July parade spot when they're just too tired to stand.
During the summertime months, taking kids to the beach can resemble herding cats — between coordinating the snacks, grabbing the boogie boards, the towels, the sunscreen, the sand toys, and of course, the beach chairs. What we envision as an IG-worthy relaxing family day by the seashore reading the latest Scary Mommy Book Club pick, in reality, can be a major sh*t show if all equipment isn't procured. Investing in a child beach chair may seem frivolous, but some children are sensitive to the sensation of sand on their legs and hands. Not only will giving them some space from the sand give us some peace, but they will also love having their own gear!
A kids' beach chair must be lightweight (see the list of necessities above if in doubt), plus when it comes with its own carrying case, Junior can lug it across the sand and help lighten our load. A sturdy frame and cute design also secure both fashion and function (our toddlers don't care if it's safe, they just want to see their favorite Paw Patrol characters!). We've curated our picks for the best kids beach chairs for toddlers and kids of all ages that will last long after beach season has ended!
Best Toddler Beach Chairs
While this may not look like a traditional beach chair, it is actually the most genius mom beach hack. Designed as a steel frame fold and go cot, it will quickly become your toddler's beach must-have. It's perfect for seating multiple kiddos during lunch or play, but also easily slides under the beach tent when the witching hour of nap time calls. Oh, we tricked you into taking a nap? We might just get to read the book we've been desperately wanting to finish (#score).
Baby Delight's Go With Me Highchair is a mobile indoor/outdoor seat for babies as little as 3 months old up to a 75 lb child! We love the 5 point harness design for keeping BB safe, in addition to the removable snack tray, sun canopy, and carrying bag. We also love the bright, fun summertime colors it's available in (like bright pink) so even our littlest ones have their own festive beach chair!
This Summer Infant seat may look simple, but it's really an all-in-one mama must-have! Designed for kids ages 6 months to 4 years, it can be a restaurant booster seat, a chair at the park, or a one-stop lunch shop at the beach (no one likes sand in their food). We love the simple, compact fold-up design and carry bag —this will for sure be a truck staple for years to come!
Best Child Beach Chairs
Raya and the Last Dragon was quite a popular movie for many reasons — one, of course, being the fact that it had dragons. Secondly, Raya is pretty incredible, proving that once again, women can change the world for the better. Celebrate the film with this cute outdoor chair for kids that's great for the beach. It folds up easily, can be carried, and doesn't require assembly. "I purchased this for my 2-year-old granddaughter and it fits her perfectly," said one Amazon reviewer. "She loves it. [The] price was right. And the locking mechanism is very sturdy, it's hard for me to lock and unlock."
While the sun can make us feel great, it can be damaging while out on the beach. That's why it might be wise to look for a beach chair for kids that has a canopy. This model by Quik Shade is practical, portable, and even created to be stain-resistant. It even has a cup holder on the side and can be used for events outside the beach, from camping to watching a community parade outside.
Unicorns are, and likely will always be, very popular. That means that this chair is bound to be a hit with the kiddos in your home. Made with oxford fabric, this chair is stain-resistant and easy to open and close. It requires zero assemblies, and even comes with its own carrying case. Also, it's straight-up adorable. Do they make these for adults, by chance?
Okay, so is this the most portable beach chair? No. Does it fold up? Also no. But, it's absolutely perfect as an outdoor chair, or if you're renting a summer home right outside of the water. Weighing in at just over 28 pounds, this double chaise lounger is perfect for siblings to relax in style. It's also just a genuinely nice piece of furniture that comes with cup holders and cushions. "It's sturdy and the cushions wipe clean easily, which is important with furniture made for little ones," noted one Amazon reviewer. "I have [two] grandbabies that are about a year and a half, and they can sit on it easily and there's enough room to nap on the flat part."
Melissa & Doug is a company known for its ability to unlock children's imagination and creativity through their vibrant playsets, so it's no wonder they've done the same with their child beach chair. This adorable chair will capture the heart of your LO but also yours with the cup holder design and the matching storage bag for each transport.
How genius is this? The amazing SPF 50 level protecting sun canopy of this Kelsyus Kids Chair is also the carrying bag? This four-point collapsible chair folds up into the canopy and buckles closed for easy storage and carrying as a backpack when not in use. So smart! While out in the sun, it provides much-needed protection for our LO's skin and is sized right for kids ages 3 and up!
RIO Gear's classic Wave 1-Position Sand Chair is the quintessential beach chair for when they really want their toes (and butt) in the sand but also want their own chair. Lightweight, easy to carry, and available in four colors and patterns, this chair folds almost perfectly flat for easy stacking in the car, perfect for carting around all summer long.
We cannot say enough amazing things about this Backpack Folding Chair from RIO Gear! The lightweight (it's only 6 pounds!) design makes it easy for kids to carry, but the genius backpack straps leave them handsfree (or able to carry the sand toys too!) for that long trek across the sand. The seat easily adjusts to 5 different positions, including laying down (perfect for those sand-sensitive kiddos), so that they are comfy all day long.
There's a lot to love about this chair from Homevative. It's easy to fold up and carry, which is great if you plan on heading to the beach. It also fits perfectly in a trunk for travel without taking up too much room. But, one of the best features is that it reclines without pinching, meaning you don't have to worry about being uncomfortable during a time you're meant to relax.
The classic red beach chair has been elevated, mama. This Alpha Camp chair comes with a shade canopy for sun protection, can hold up to 350 pounds, features two cup holders (one on each arm), and a carrying cover! "It is a winner!" said one Amazon reviewer. "It is very sturdy, there is nothing to assemble (the canopy folds up and down), and it fits back easily in its carrying bag. Hot grandchild games just got a lot more pleasant!"
Check out our full list of mom-approved, must-have summer essential kids gear to be Pinterest level prepared this year!
This article was originally published on