A Divorce Coach Says Co-Parents Should Stop Fighting Over Kids' Clothing
But the internet is divided over it.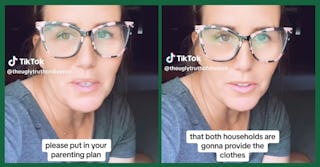 @theuglytruthofdivorce/TikTok
If you're divorced with kids, you already know you're still in a relationship with their other parent. It's not romantic anymore and may even be dysfunctional, but it's a relationship nonetheless. And, as is common with many relationships, you could still feel like you spend more, discipline more, plan more — do more, period — while your co-parenting partner gets off with the bare minimum. That feeling is precisely why divorce and co-parenting concierge Samantha Boss (aka Coach Sam on TikTok) posted a video with a lightning rod suggestion: "Please put in your parenting plan that both households are going to provide the clothes."
Relationships, especially toxic relationships, often end up feeling one-sided. That's why co-parenting contracts or plans play such a big part in custody proceedings. Who pays school fees? Who covers sports? How are you dividing big-ticket necessities or "splurges"? Doctor's appointments? Holidays? And a pain point many co-parents struggle with, as evidenced by Coach Sam's video, who pays for your kids' clothes?
If you've taken the approach that both parents buy kids' clothes and those clothes stay at the buyer's home, you're not alone. While that's a pretty typical arrangement for parents splitting custody, Coach Sam argues that's not necessarily what's best for your child.
Sam runs two separate TikTok accounts: TheUglyTruthOfDivorce and TheUglyTruthOfCoParenting. In a recent post on her CoParenting page, she talked about kids who have separate wardrobes at each parent's home and the confusion and tension it can cause for kids.
Needless to say, she has been stitched into a ton of angry replies and received *many* comments ranging from frustrated to downright furious. As a result, she took to her divorce-focused channel to try to help parents who are still in the early process of divorce and devising a co-parenting plan.
"Are any of you stopping to think about what it would be like to be a child that has to carry an extra book bag to and from school? Have you thought about what it would be like as a child to have to stop what you're doing on Sunday night before you go back to the other parent and change your clothes just because this parent says, 'Well, you have to go put that outfit on because that's what you came here in,'" questions Sam. "These kids didn't pick this scenario, but these two adults are making the child — what the child wears, what the child carries — pay the price for their bitterness. Their bitterness."
Parents who practice this sort of separate wardrobe quickly took to the comment thread to explain the reasons for their decision.
"It's not that they've spent the money on it, it's that they don't have more to spend on it," says Kara C Tezero.
"It's not out of bitterness," argues Kylie Lynn. "Half my daughter's closet ended up at her dad's, fine, I'll get them back when I go over there... NOPE his babysitter got [them]."
"Except *he* keeps all the nice clothes and sends her home in ripped, stained, and too small clothes. It's sad and frustrating," says Vi&V.
Other parents tried to offer support for Coach Sam's advice.
"Honestly the clothes I buy my son are his. Idc where he wears them or if his dad ends up keeping ones I bought at his house. It's not that heavy," states MsV8r.
"My ex and I have a joint account which we both put money into each week. That account is all for the kids' must-haves... clothes, school, sports, etc.," shares Aussieinnzland.
Want to know what started it all? Here's her original post on TheUglyTruthOfCoParenting.
Sam (and her followers) make some really solid points on both sides of the fence. At the end of the day, though, both parents' main focus should be creating a healthy environment for their kids. Make sure your parenting plan considers all aspects of their life so you minimize the stress they have due to co-parenting conflict.