The 15 Best Leakproof Water Bottles for Kids
We only recommend products we love and that we think you will, too. We may receive a portion of sales from products purchased from this article, which was written by our Commerce team.
by Kyle Schurman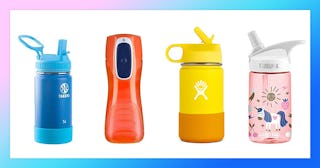 Amazon
Reusable water bottles for kids are a must, otherwise you'll be washing dishes forever, and we're also down to be better to the earth. There are a few basics we consistently need for each of the kids. It's a long list which you already know includes new bikes, new shoes almost every month, bathing suits in summer, and a new toothbrush and toothpaste more often than any adult on the planet. You know what else they need almost as often? New water bottles.
When child health experts say: Proper hydration with good old-fashioned water is key to maintaining good health, we believe them. And when they say kids should drink several cups of water per day (even more in the summer), we listen, buying water bottle after water bottle after water bottle (you get it). We'll do anything to get our kids to be active and healthy.
Clearly, these experts have never spent time dealing with a child trying to drink that much water during a car trip. Whether the kid spills water all over the car, begs for fruit juice instead of "boring" water (a big pet peeve of ours), or suddenly needs to pee exactly 13 seconds after you've driven past the last chance bathroom for the next 30 miles, keeping the kid hydrated ranks about #4 on the daily frustrated parents list.
At least we can help you with one problem: Finding a leak proof water bottle. (We, unfortunately, cannot find a leak proof kid, so you'll have to continue to try to perfectly time your bathroom breaks. It won't work…we know.) Kids water bottles come in fun shapes and sizes, so you can find one that your kids will gladly use … even if it's filled with boring water.
Our Top Picks for Best Toddler Water Bottles
Best Insulated Water Bottles For Kids
Best Spill Proof Water Bottle For Kids
Best Kids Water Bottles That Are Also Reusable
We've spent a lot of time researching crap (did I say that?) like this, so check out all of our best kids gear.